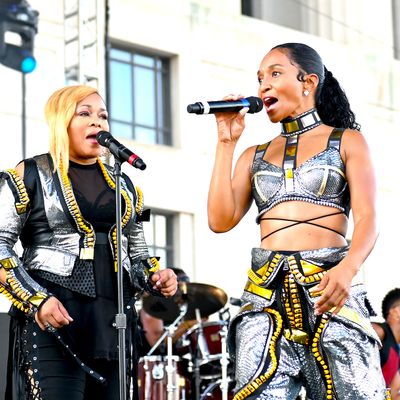 A little preview of your cool hip Friday night with Tom Steyer.
Photo: Jason Kempin/Getty Images
How do you do fellow kids, may I interest you in a cool hip concert this Friday evening? It's free, which I know you young people love, having given over all paychecks past, present, and future to student loan payments, and! Its 1990s nostalgia quotient is through the goddamn roof. It's TLC, live in Las Vegas, and if you want to go, you need only reconcile yourself with this one tiny catch: The venue is Tom Steyer's "Battle Ready" rally.
Having failed to qualify for Wednesday night's Democratic debate, it appears the businessman needs to scare up a little excitement around his campaign. The other billionaire candidate bought himself virality with a meme blitz, while Steyer is using his ample funds to do this: Throwing you a fun little party featuring TLC, Steyer's first and (as far as I can tell) only celebrity endorsement. The duo — TLC is now a two-woman operation, Rozonda "Chilli" Thomas and Tionne "T-Boz" Watkins having stuck to their pledge never to replace Lisa "Left Eye" Lopes, who died in a car crash in 2002 — will go on sometime after 6:15 p.m. at the Industrial Event Space, and according to Steyer's campaign site, food and beverages will be provided. How's that for added incentive.
So, to recap: On the plus side, you could get to see Chilli and T-Boz perform "Waterfalls" and "Creep," live, along with new-ish music off what's probably their last album ever. The downside is that you'll be at a Tom Steyer rally, but then you might get to see him dance awkwardly along to "No Scrubs," and as mentioned, there will be snacks. Listen, you roll the dice.