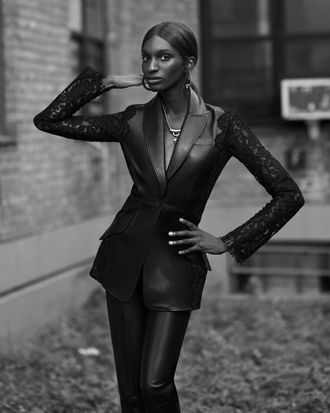 Torraine Futurum.
Photo: Ethan James Green
Photographer Ethan James Green, who is known for his striking black-and-white style, shot a group of close friends for Alexander McQueen. Wearing the spring 2020 collection, the models are Green's long-term collaborators Dara, Torraine Futurum, and Marcs Goldberg. All three are transgender, and all three have made waves in the industry in their own right.
Green first became recognized for a monograph, Young New York, that intentionally highlighted a diverse cast of queer models, artists, designers, and nightlife personalities. With this latest portrait series, Green captured his friends in striking positions that give life to McQueen's flowy lace skirts, dramatic sleeves, tattered pieces of fabric, and structured blazers. Most of the images are in his signature black-and-white, with a few in saturated color. Keep scrolling to see all the photos.