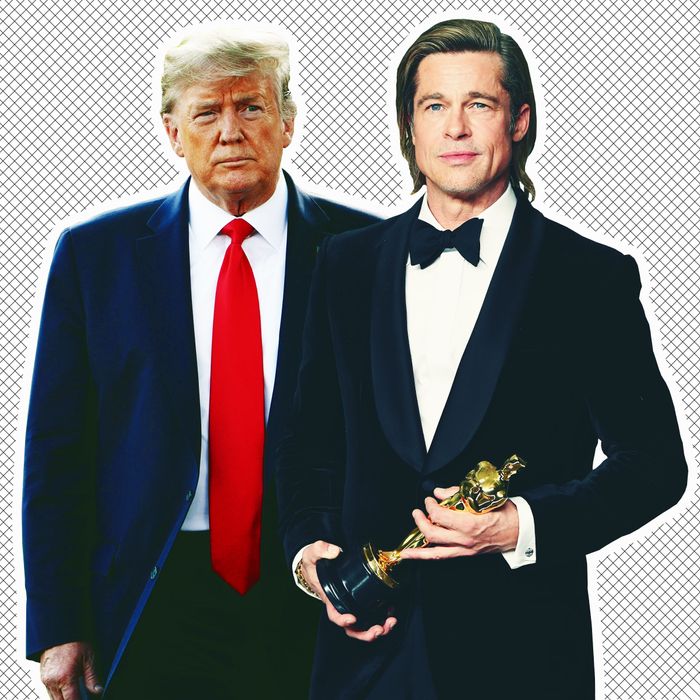 Donald Trump and Brad Pitt.
Photo: Getty Images
Award season's least-astute critic has logged on, nearly two weeks late, and with a suitcase full of bad and racist opinions in tow.
At a rally in Colorado Springs, Colorado, on Thursday night, President Trump shared his thoughts on the 2020 Oscars. "And the winner is a movie from South Korea. What the hell was that all about?" the president said, referring to Bong Joon-ho's film Parasite, which won four Academy Awards, including Best Picture. His main — indeed, his only — criticism of the film was that it was South Korean: "We've got enough problems with South Korea, with trade."
"Was it good?" he asked the assembled crowd. "I don't know."
The president also criticized Brad Pitt, who won the Academy Award for Best Supporting Actor and used his acceptance speech to criticize Republicans in the Senate for not allowing former White House national security adviser John Bolton to testify in the impeachment trial against Trump.
"And then you have Brad Pitt, I was never a big fan of his," Trump told the crowd. "He got up, said a little wiseguy thing. He's a little wiseguy."
While it's difficult to imagine Trump enjoying, or even just sitting through the entirety of any film at all — he's clearly more of a painting guy — he claimed he wanted more movies like Gone With the Wind, the 1940 Best Picture winner that's set on a Civil War–era Georgia cotton plantation.
Trump did not comment on the Best Adapted Screenplay winner Taika Waititi's claim that Apple needs to fix their keyboards.