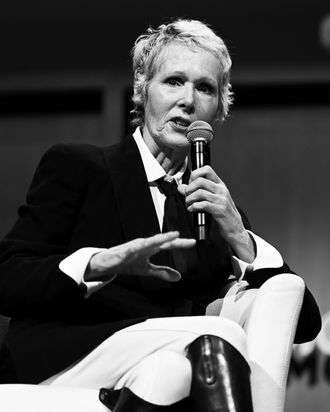 Photo: Ilya S. Savenok/Getty Images for Glamour
The writer E. Jean Carroll, who in June accused Donald Trump of raping her more than 20 years ago, said on Tuesday that she had been fired from her longtime position as an advice columnist for Elle.
Carroll announced the demise of her beloved column on Twitter, writing, "Because Trump ridiculed my reputation, laughed at my looks, & dragged me through the mud, after 26 years, ELLE fired me." She added that writing the "Ask E. Jean" column was "the great honor of my life" and that she blamed Trump rather than Elle for the loss of her job.
Carroll's lawyer Roberta Kaplan included material in a court filing on Tuesday confirming that her client's contract with the magazine had been terminated, though not the reason for it. The filing was made as part of Carroll's ongoing defamation case against Trump that began in November after he responded to her allegations of assault by calling her a liar. It includes an email from Elle's executive managing editor, Erin Hobday, dated December 11 that confirmed the magazine was terminating Carroll and stipulated payment for the five pieces remaining in her old contract.
Per the New York Times, Hobday wrote in the email, "We and your readers appreciate your many years of work for the magazine, and the wonderful columns you contributed to our publication. We will miss you tremendously." Hearst, Elle's parent company, did not immediately reply to the Times' request for comment.
Carroll, now 76, alleges that in the mid-'90s, Trump raped her in a fitting room at the New York department store Bergdorf Goodman after encountering her there and asking her to help him pick out some gifts. The president has denied ever meeting Carroll despite photographic evidence of the two hanging out at a party together in 1987. More than two dozen women have accused Trump of sexual misconduct going back to the 1970s. Carroll first publicly detailed these accusations in an excerpt from her 2019 memoir published by New York Magazine.