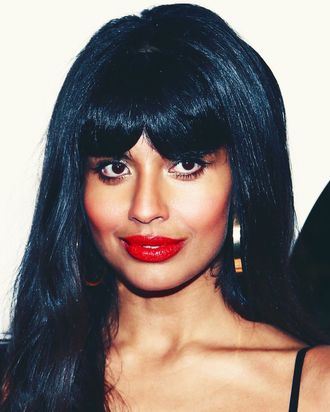 Photo: Tommaso Boddi/WireImage/Getty Images
If you're confused about why the actress Jameela Jamil has found herself at the center of controversy again, then you've come to a good place. At the beginning of this week, HBO announced Jamil would MC and host a forthcoming show called Legendary, a nine-episode unscripted ballroom-style competition series. By Thursday, the story has drifted quite far: In the face of criticism over her lack of ties to the ballroom scene — and, seemingly, to the LGBT community as a whole — Jamil revealed that she is queer. In between, there was some messy press coverage, making the story fertile ground for a social-media dustup. Here's what you need to know.
The ballroom show controversy begins
The controversy began on Monday, when HBO announced that Jamil would star in the network's new reality voguing competition, in a press release headlined "HBO Max's Ballroom Vogueing Competition Series Legendary Taps Jameela Jamil to MC and Judge." Ballroom-style competitions, in which contestants vogue, walk, and pose for prizes, have flourished for decades in queer POC scenes. Out reported that Jamil initially tweeted (and subsequently deleted) of her new gig "I'm *so* excited to be a tiny part of bringing ballroom further into the mainstream where it belongs."
The decision to cast Jamil, who has no obvious connection to LGBT culture or voguing in particular, incited an instant backlash.
The pivotal moment in this conversation came when trans actress Trace Lysette tweeted that she had been interviewed for Jamil's job and lost out. "This is no shade towards Jameela, I love all that she stands for. If anything I question the decision makers," Lysette tweeted.
Twelve hours after the initial announcement, the story had changed. Jamil clarified in a tweet, "Deadline says I am the MC of this show! I am not. I am just one of the judges. The brilliant Dashaun Wesley is." But Out notes that the original press release from HBO — which Jamil linked to in her now-deleted tweet — had said simply, "commentary by Dashaun Wesley." As of Wednesday, the HBO release still stated that Jamil would MC the show. On Wednesday night, HBO issued a statement confirming that Jamil will not MC the show. "For clarity, Dashaun is the series' MC/Commentator, and Jameela heads up the panel of judges alongside Leiomy, Law, and Megan," the statement reads.
At this point Jamil responded to Lysette, tweeting, "I think you auditioned to be one of the house mothers," referring to senior members of the ballroom scene, which is organized into intentional communities or families called "houses." "I'm just one of the judges. Not a house mother. We weren't up for the same thing." To which Lysette responded, "I don't have to audition to be a house mother … I am one," and disputed Jamil's account, adding, "I send you love too. But I will always speak my truth."
Jamil comes out as queer
On Wednesday, Jamil further responded to the brewing controversy by revealing that she is queer. "This is why I never officially came out as queer," she wrote, "I was scared of the pain of being accused of performative bandwagon jumping, over something that caused me a lot of confusion." She went on to explain that the lack of out family members and pressures of being a POC actress in her 30s in Hollywood have contributed to her reticence to officially come out, but that she's "always answered honestly if ever straight-up asked about it on Twitter." The actress conceded that "my being queer doesn't qualify me as ballroom."
The reaction has been mixed, with some of Jamil's critics taking issue with the timing and apparent defensiveness of her announcement.
Lysette pointed out on Wednesday evening that, while Jamil might not be MC-ing, she is still "Executive Producer along with two cis white guys who produced Queer Eye."
Jamil is no stranger to controversy
This isn't the first time the narrative has gotten the better of Jamil. In December the actress was criticized after expressing her opinion that airbrushing is "disgusting" and a "crime against women," and that it should be banned. Some people felt the way she was going about the conversation was unproductive, to say the least, especially considering that she's a conventionally attractive woman. Jamil stood firm, saying that while her approach might be "extra," she's more concerned about the "teen surgery, eating disorders, and self harm," that unattainable beauty standards inspire. Jamil also came under fire for tweeting her support of Ellen DeGeneres getting chummy with George W. Bush at a recent Dallas Cowboys game. The actress later apologized, writing that she was just "learning today about the full extent of Bush's heinous presidency."
This post has been updated.