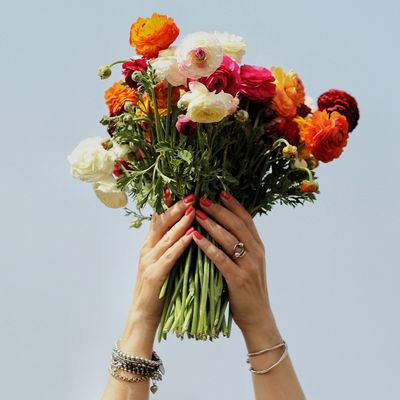 Photo: Elinor Harari / EyeEm/Getty Images/EyeEm
Valentine's Day is almost upon us. Perhaps you're thinking of marking this holiday by getting a present for your sweetheart or a friend to show them how much you love them. Chocolates could be nice. Or a lasagna. Or a room full of balloons. If you were planning on getting a romantic bouquet of flowers, though, I'd urge you to think twice.
As a New York Times piece published today notes, the environmental impact of shipping cut flowers around the world is enormous, particularly around Valentine's Day.
Only about one-third of cut flowers sold in the U.S. are grown domestically, and most roses we buy are flown in from Colombia and Ecuador. While these flowers would be shipped on regular passenger planes most of the year, the weeks before Valentine's Day see a huge increase in the number of flights dedicated solely to shipping flowers — roughly 30 cargo planes fly from Colombia to Miami every day in the three weeks prior to the holiday, according to Vox, and 30 more fly out from Ecuador. In other words, every rose you buy this Valentine's Day has a not-insignificant carbon footprint. (No definitive study has yet been done on the environmental damage caused by the Kardashians' various grand romantic gestures.)
What's more, most bouquets and floral installations immediately go to waste.
"Valentine's Day is an incredibly wasteful holiday in terms of its environmental impact," Liza Lubell told the Times. Lubell runs the company Garbage Goddess, an eco-cleanup service that finds "alternative homes" for flowers that would otherwise be tossed out after large events like weddings and galas. These events, she added, have an even worse environmental impact over the course of the year, producing up to 100 bags of cast-off flowers each.
Still, Lubell says the issue is not about not having flowers at events, as much as it is knowing from where the flowers are sourced, and how they'll be disposed of.
"Garbage Goddess supports local, seasonal blooms and empowering the customer to get curious about where their flowers come from and where they end up. With a little education, the whole floral industry can shift toward sounder environmental methods."
This post has been updated with a comment from Garbage Goddess.