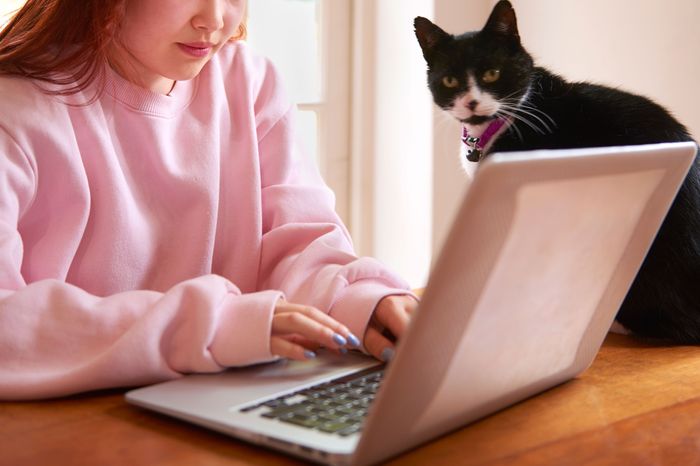 Photo: Peter Dazeley/Getty Images
It's Valentine's Day. You're sitting at home on your computer (because you didn't take any of our perfect 24 Valentine's Day activity recommendations), and you start chatting with a friendly online companion. You're hitting it off, and you love how hot, nice, and interesting this stranger is.
Wow, you think to yourself, this person seems sweet and down-to-earth. It sucks that they are a doctor who could also be a model, living overseas and working for free in a small village, but their family disowned them, and they need me to put $1,500 on a gift card so they can renew their visa. They seem to really like me and I want to see where this goes.
Here's a piece of important advice: Do not send this person a gift card! Don't wire them cash, or give it to them on PayPal, or tell them your Social Security number because they are just "into numbers." You are likely being scammed! Scammers love Valentine's Day, and the phishing attacks may ramp up, per the FBI (yes, the FBI), on this potentially lonely holiday. None of us want to spend the evening insisting to a cop that it honestly seemed like "Theodore" lost his fortune when a military coup sent him and the rest of the royal family of a small principality into hiding.
Americans lost $201 million to online romance scams in 2019, per CNN — an almost 40 percent increase from the year before. The scammers infiltrate dating apps, chat rooms, and social media to prey on the lonely and vulnerable. According to the FTC, the most common lies phishers will tell are that they are deployed in the military, are working on an oil rig overseas, or are a doctor embedded with international groups — so watch out if he talks about wanting to meet up "off rig" — and they typically ask for money to pay for things like visas, plane tickets, or hospital bills.
A good trick to testing for a phisher might be to ask them to send you a $1,500 gift card, because if they do then you know they are a real person who is actually into you. And if they report you to the FBI, you can tell them you were simply protecting yourself.