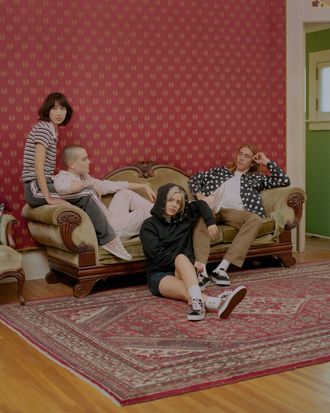 Photo: Courtesy of Sandy Liang
From Tik Tok to televisions, teens are having a moment in popular culture. So naturally, the way they dress is also becoming a thing, even if you fall outside of the demographic. Enter the Sandy Liang collaboration with Vans.
Liang's design aesthetic involves a certain cartoonish playfulness, and her personal style is inspired by her grandma and the hand-me-downs of her youth. She's also associated with downtown New York, so a collaboration with nostalgic skater brand Vans makes perfect sense. Among all the cheerful stuff they've made, there's a tie-dye long sleeve T-shirt perfect for a chill high school skater kid, blush rhinestone-embellished sneakers that feel like the luxe version '90s BeDazzler art, and the bucket hat certain grandmas wore before it was even trendy.
Still, don't let the thought of dressing like a cool teen discourage you, since there's something for just about anyone. The collection spans clothing, accessories, and footwear, and prices range from $14 to $200. It's all available now on the Vans and Sandy Liang websites. Keep scrolling to shop some of our favorites.
If you buy something through our links, New York may earn an affiliate commission.