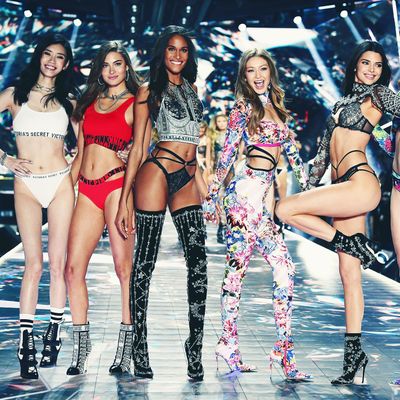 Photo: Dimitrios Kambouris/Getty Images for Victoria's Secret
After years of controversy and sliding sales, Leslie Wexner, the billionaire behind Victoria's Secret, is stepping down as its CEO.
Wexner's exit, confirmed by Bloomberg this morning, has been a long time coming. The brand has been in free fall for years: The Victoria's Secret Fashion Show was officially canceled last year after years of declining viewership, and the brand's sales started falling in 2017, as customers turned to new labels that focused on comfort and inclusive marketing, Rihanna's Savage x Fenty lingerie line being chief among them.
Then there's the PR problem: In 2018, the man behind the brand's molto sexy marketing, Ed Razek, told Vogue that transgender models would never be used in a show because they didn't fit the "fantasy." He has since quit. And last year, Wexner himself came under scrutiny for his ties to the late financier and sex trafficker Jeffrey Epstein. Wexner has since said that his trust in Epstein was "grossly misplaced" and that he "deeply regret[s] having ever crossed his path."
Wexner, who is 82, has been the chief executive of L Brands, Victoria's Secret's parent company, for 57 years. He brought the lingerie empire to its peak in 2015, when its market value was $29 billion, and he's stuck around for the last five years as the brand has collapsed. (The company's market value is now less than $6 billion.) In a statement sent to employees and seen by Bloomberg, Wexner said:
I think about the endless possibilities ahead for this company. And I've thought about where I fit in the picture. In keeping with this same thoughtful examination, I have decided that now is the right time to pass the reins to new leadership.
The private-equity firm Sycamore Partners will also purchase a 55 percent controlling stake in the lingerie brand in a deal valued at $1.1 billion. Bath & Body Works, the other brand in the L Brands portfolio, will be retained by the company.
This post has been updated with additional information.