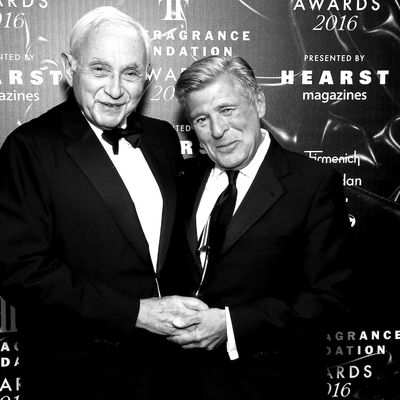 Leslie Wexner (left) and Ed Razek (right) allegedly created a culture at Victoria's Secret that let sexual harassment thrive.
Photo: Astrid Stawiarz/2016 Getty Images
The two men at the top of Victoria's Secret built a lingerie behemoth on systemic harassment, creating "an entrenched culture of misogyny," according to a New York Times investigation published Saturday. Leslie Wexner — chief executive of Victoria's Secret's parent company, L Brands, who is reportedly in talks to step down — allegedly turned a blind eye to repeated transgressions by his former deputy, controversial chief marketing officer Ed Razek.
Together, the Times contends, the pair created an environment where models felt pressured into uncomfortable situations, for fear that saying no would harm their careers. Razek — who architected the brand's (now-cancelled) fashion show and its Angel conceit, and who quit Victoria's Secret in August — "categorically" denied the Times' allegations. Wexner's spokesperson declined to comment, and a spokesperson for L Brands told the paper that the company "'is intensely focused' on corporate governance," without refuting the claims. L Brands did not respond to the Cut's request for comment by time of publication.
You can read the full report here, but below, we've pulled out the biggest takeaways.
Razek allegedly behaved inappropriately during castings, asking underwear-clad models for their phone numbers and to sit on his lap. In 2018, watching Bella Hadid get fitted for broadcast-appropriate bottoms ahead of the annual fashion show, Razek reportedly wondered aloud whether or not she would be allowed to walk "down the runway with those perfect titties." At that same fitting, he allegedly grabbed another model's crotch.
Model Andi Muise says she was passed over after deflecting Razek's advances. In 2007, Razek reportedly invited 19-year-old Muise, a two-time Angel, out to dinner. On the way there, Muise recalled Razek repeatedly trying to kiss her against her will. For months afterward, he allegedly emailed her, asking her to move in with him in Turks and Caicos or the Dominican Republic. "I need someplace sexy to take you!" he reportedly explained. But when she declined an invitation to dine alone with him at his home, she says she wasn't picked for the 2008 fashion show — for the first time in four years.
Complaints against Razek allegedly translated to inaction or retaliation. An employee allegedly submitted a complaint against Razek to HR, outlining over a dozen instances of verbal harassment and inappropriate touching. It appeared to go nowhere. Casey Crowe Taylor, a former public relations employee, also complained to HR — to no discernible effect — when Razek allegedly screamed at her about her weight at a 2015 shoot. In October, two months after Razek left the company, former public relations executive Monica Mitro went to the board of directors with a harassment complaint against her former colleague. Mitro was placed on administrative leave the next day, and has since reached a financial settlement with the brand. Another woman who worked with Razek's son reportedly complained about his behavior to H.R., and found herself shuffled to another L Brands company, Bath & Body Works.
Wexner reportedly ignored alleged abuses by Jeffrey Epstein. Wexner's reported ties to the alleged pedophile are not news: Epstein once managed Wexner's fortune, and allegedly posed as a sort of company scout in order to recruit aspiring models into his purported sex ring. According to the Times, though, Wexner may have known about that behavior as early as the 1990s, but apparently never acted on the complaints.