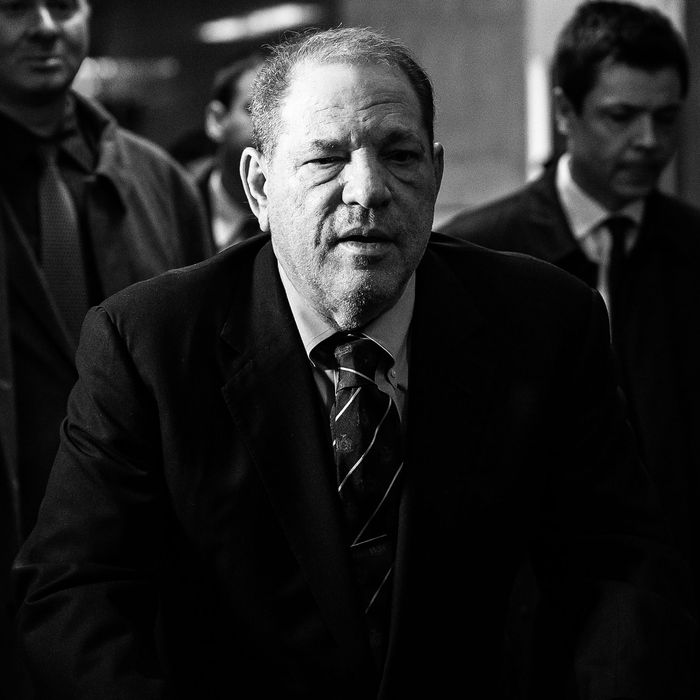 Harvey Weinstein.
Photo: JEENAH MOON/Getty Images
As more than 100 women have come forward to publicly accuse Harvey Weinstein of various forms of sexual misconduct, the disgraced Hollywood mogul has vehemently denied wrongdoing, and his defense team has attempted to discredit his accusers. But new reporting from the New York Times suggests that Weinstein hasn't always responded to sexual-assault allegations so defensively. According to former employees and previously undisclosed records, when Weinstein was accused of sexual assault in the 1990s, he admitted that he "sometimes" struggled to know when sex was consensual.
The Times reporting revisits two earlier allegations against Weinstein: In 1990s, a Miramax assistant accused him of sexual assault; then, in 1998, Weinstein settled with other Miramax assistants, Rowena Chiu and Zelda Perkins, to cover-up Chiu's sexual-assault allegation against him.
In both cases, Weinstein reportedly responded to the allegations with remorse. In the first instance, he allegedly told the company's chief financial officer that he had done "something terrible," and promised, "It won't happen again." Then, in 1998, when Weinstein settled with the two former assistants, according to notes taken by the women's lawyer, which were obtained by the Times, Weinstein told the two women, "I truly apologize for the pain I've caused you. Things confusing for me too. You may not believe that. Sometimes don't know when it's consensual. Trying to learn. Maybe I don't recognize my power in these situations."
This admission complicates the story Weinstein has told in the past few years. While he broadly apologized in October 2017 for any instance in which his workplace behavior could've been perceived as inappropriate ("I came of age in the '60s and '70s, when all the rules about behavior and workplaces were different"), he has unequivocally denied all allegations of sex that was "nonconsensual."
Through his legal team, Weinstein denied to the Times that he ever apologized or admitted wrongdoing, disputing Chiu and Perkins's account. "Harvey said 22 years ago he did not know when things were consensual," Perkins told the Times, which Chiu recalled as well: "We looked at each other and said, 'Did you hear what he said?'"