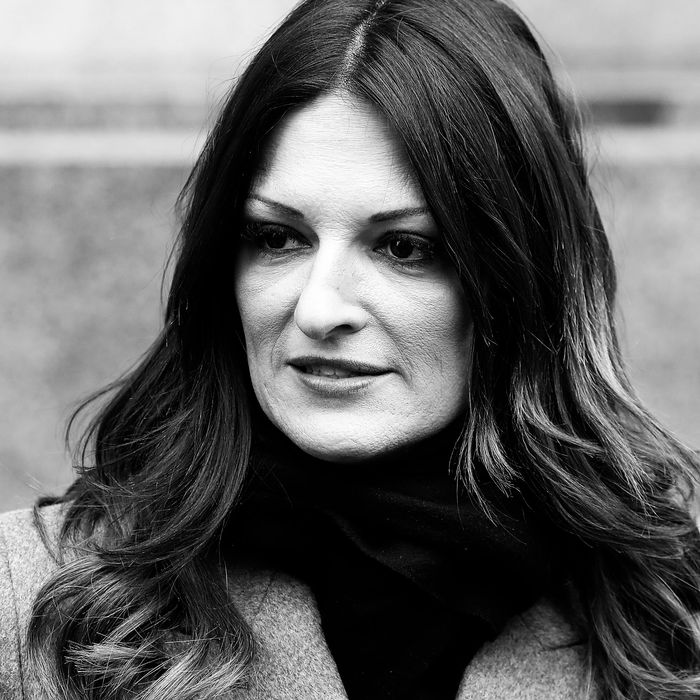 Photo: John Lamparski/Echoes Wire/Barcroft Media via Getty Images
In a recent interview, Harvey Weinstein's defense attorney Donna Rotunno glibly claimed that she has never been a victim of sexual assault, "because I would never put myself in that position." Her words immediately drew backlash for not only being cavalier about survivors' suffering, but also for deploying a worn-out misogynist trope — but would we expect anything different from a woman who's chosen to defend a serial predator accused by over 90 women of misconduct?
Rotunno made the comment in an interview with the New York Times' podcast The Daily, speaking to the journalist Megan Twohey, who broke the Weinstein story with fellow reporter Jodi Kantor in September 2017. Rotunno, who has been representing Weinstein since last May, has made a career of defending high-profile men accused of sexual assault and rape. Weinstein, her most recent client, is currently on trial in New York, facing two counts of rape, two counts of predatory sexual assault, and one count of criminal sexual act (he denies the charges).
Throughout the interview, Rotunno minimized the claims of six women who have been delivering harrowing testimony for the past two weeks — alleging that Weinstein forced them, some violently, into sex and plied them with false promises of helping their careers. But this latest statement stood out, as it seemed that she was blaming victims of sexual assault for their experiences.
Twohey, audibly shocked at Rotunno's answer, asked for clarification: "So you're saying that you have never been sexually assaulted because you would never put yourself in the position of being sexually assaulted?"
Somehow, Rotunno doubled down. "I've always made choices, from college age on, where I never drank too much, I never went home with someone I didn't know, I just never put myself in any vulnerable circumstance ever," she reiterated.
When Twohey pressed again if Rotunno was saying that all women who have been survivors of sexual assault and rape are to blame for what happened to them, Rotunno issued a quick denial. "Absolutely not," she said. "All I'm saying is that women should take precautions."
"If you go out on a date with someone … and you make a choice to go into their home at the end of the night, what do you think could potentially happen?" she continued. "If you're not prepared for what could potentially happen, I think we're kidding ourselves. And then to leave, and say, 'I had no idea that this person would maybe try to be sexual with me' … I think is naive."
When asked what men need to do differently to prevent sexual assault, Rotunno responded, "If I was a man in today's world, before I was engaging in sexual behavior with any woman, today, I would ask them to sign a consent form."
In court on Friday, after the episode aired, prosector Joan Illuzi-Orbon said that Rotunno had violated a previous order from the judge not to discuss the case and witnesses in public. Illuzi-Orbon complained that Rotunno, in the episode, was "calling our witnesses liars [who are seeking] celebrity victim-hood status." Rotunno claimed that she had done the interview "long ago" and that she did not know it would air; BuzzFeed reports it was recorded last week, and that the Times says it informed her of the air-date.
Update, February 24: Harvey Weinstein's verdict has been announced.