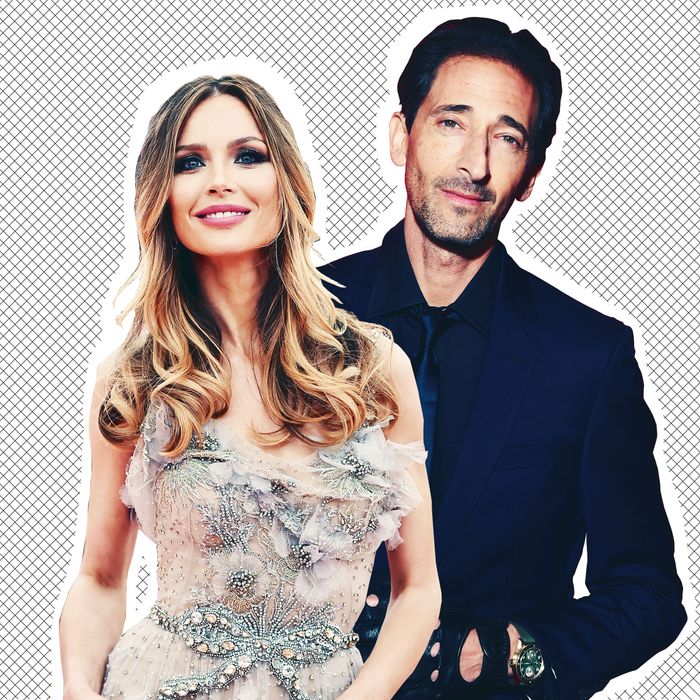 Photo: Theo Wargo/WireImage/Corbis via Getty Images
This has been a big month for Oscar-winning actor Adrien Brody, who wore a silly hat to the Vanity Fair Oscars after-party and now has seen his relationship with Marchesa designer Georgina Chapman become public knowledge.
"Page Six" reports that rumors of the couple's courtship have been circulating since last fall, and a source has confirmed with the tabloid that the two are still going strong. Chapman finalized her divorce from convicted rapist Harvey Weinstein in 2018, after leaving him the previous year as the media reported a continuous stream of sexual-misconduct allegations against him. (Earlier this week, Weinstein was found guilty of two counts of rape and sexual assault in a Manhattan court, and now faces up to 29 years in jail.) The two had been married since 2007 and have two children; Chapman has maintained that she was never aware of Weinstein's behavior while they were together.
Chapman reportedly vowed not to date anymore after the dissolution of her first marriage, and Brody was reportedly "a big source of support" for her during that time. The two ran in similar circles for a while and had met several times, but according to "Page Six" "sparks flew" when they were both at an event in Puerto Rico last April. During that trip, "Page Six" writes, "photos show the pair looking cozy as they sat opposite each other over a candlelight dinner with friends." The Sun reported on Wednesday that Chapman first met Brody through her ex-husband, whose company Miramax produced two films he starred in.
Meanwhile, Weinstein now faces a second sexual-assault trail — this one in Los Angeles, over two cases from 2013.