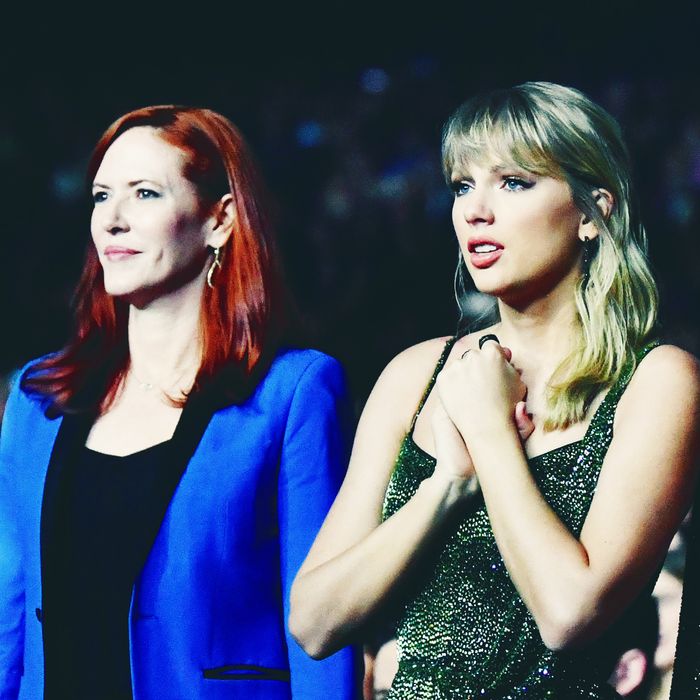 Photo: Emma McIntyre/AMA2019/Getty Images for dcp
Taylor Swift's new Netflix documentary, Miss Americana, hit Netflix last week, and has already been hailed by critics as a well-crafted — and unusually intimate — look at the pop star's rise to fame. It's not comprehensive, but the film is fairly revelatory; Swift opens up about her relationship to publicity, touching on everything from her experiences with stalkers to how paparazzi photos have affected her body image. She also discusses the psychological impact of her feud with Kanye West, as well as that of her 2017 sexual-assault case, which involved a 2013 incident in which DJ David Mueller groped her while taking a photo (Swift won her $1 symbolic countersuit against Mueller). For the most part, the documentary focuses on the feminist and political awakening Swift has undergone, apparently as a result of these experiences.
Viewers also get a few brief glimpses of the woman who guided Swift through many of these moments: Tree Paine, Swift's infamous publicist. Paine appears in the latter half of the film, a picture of support and no-nonsense efficiency, slugging glasses of white wine alongside her client on a couch as Swift took to social media to publicize her left-leaning political views (for the first in her career) back in 2018.
But Paine has played a more substantial role in Swift's celebrity than her brief appearances in Miss Americana let on. An imposing red-headed presence, Paine has been Swift's publicity head since 2014 — through some of her most intense moments of public scrutiny — and has built a reputation as a quiet but ferocious PR pitbull.
She's guided Swift's publicity through several public breakups, her ongoing feud with Kanye West, as well as her complicated artists' rights dispute with Scooter Braun. And while she herself is extremely private, we dug up a little bit more on the "flame-haired beauty" behind the Taylor Swift machine:
Before working for Taylor, she was big in Nashville music.
Paine worked at the Academy of Country Music in Nashville, where Swift got her start. She was hired as the VP of publicity for Warner Music Nashville before starting her own company.
She's quiet on social media, except for Tumblr.
Tree Paine's Twitter is wholly dedicated to Taylor Swift PR; she doesn't do interviews, and her Instagram is private: "I only use the Gram for family photos so please don't be offended if I don't accept a request. It's mainly for friends who know my family" her bio says.
And while Tumblr doesn't verify accounts, www.tree-paine.tumblr.com appears to be the publicist's actual Tumblr account. It includes photos of Taylor, as well as fan-GIFs of Paine herself.
Her Instagram bio contains clues to her favorite Taylor Swift song.
Along with the warning that she won't accept your friend request, Paine's Instagram bio contains a link to the 2017 song: "ZAYN ft. Taylor Swift - I Don't Wanna Live Forever" from the Fifty Shades Darker soundtrack.
She loves cats with squashed faces.
Paine and Swift have the same taste in cats. Her Tumblr profile features dozens of photos of what appears to be Paine's cat, apparently taken on her own iPhone.
She has an unexpected connection to The Property Brothers.
Her husband is Lance Paine, who was formerly the president of a massive candy brand, as well as Scott Brothers Global, the company behind HGTV's Property Brothers.
Her effectiveness as Swift's PR is a subject of debate among Swift fans. 
Fans are divided on whether Tree Paine has done a good job as Swift's head of publicity. After all, Swift's PR has been a roller-coaster since the 2009 Kanye West incident at the MTV Music Video Awards, when he interrupted her acceptance speech to say that Beyoncé had a better video. And under Paine's guidance, Swift's last couple of years have played out intensely over social media: there was 2016 #TaylorSwiftIsOverParty, her extremely public breakup with Tom Hiddleston (#Hiddleswift), her feuds with Kanye West and Kim Kardashian West, as well as with Nicki Minaj, and the way in which she was painted as an alt-right icon by various neo-Nazi groups online.
Many fans have accused Paine of handling this poorly, but all things considered, Swift's reputation seems to have mostly recovered from its post-Red nosedive. It's likely Paine had a hand in Swift's recent period of concealment and quiet, including the privacy of her relationship with actor Joe Alwyn; and she certainly played a role in Swift's decision to endorse two Tennessee democrats, the first time she made her political views public, in a move that fans applauded.
All things considered, for someone who was canceled multiple times in the years between 2017–2020, Taylor Swift seems to have successfully rebounded; just look at the certified-fresh rating of Miss Americana on Rotten Tomatoes.