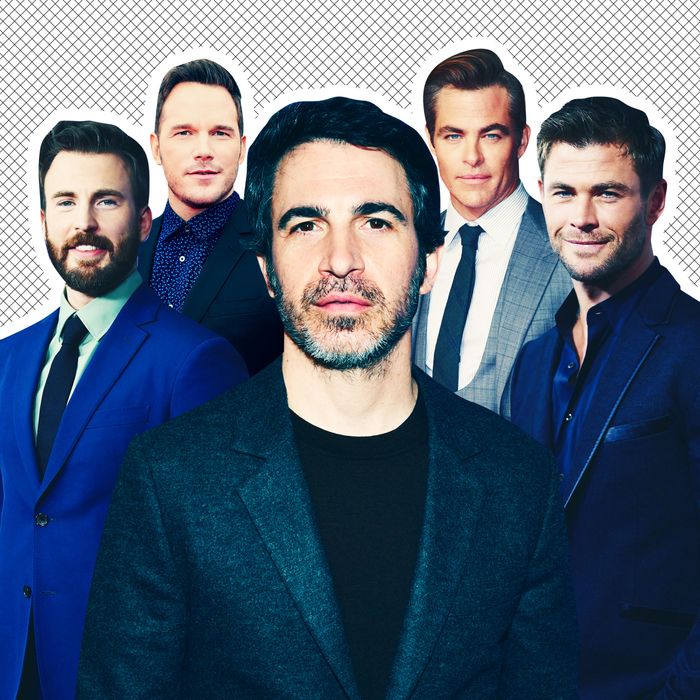 The war of the Chrises — which has revolved around Chris Pine, Chris Evans, Chris Pratt, and Chris Hemsworth for the last several years — shows no signs of stopping. As each have made their respective Marvel and DC debuts, fans everywhere have weighed their respective attributes and tried to come up with a definitive ranking. While there's never been a clear No. 1 Chris, people have generally agreed on two things: There are only four Chrises on the Chris List, and Chris Pratt comes in dead last.
I'd like to propose a formal set of rules for judging the Chris List, using RuPaul's Drag Race's motto: Charisma, Uniqueness, Nerve, and Talent. Based on these criteria, it's easy to see why Evans usually comes in around the top due to his charming demeanor, dating Jenny Slate, being "woke," and just being hot in Captain America. Hemsworth also made a brilliant case for himself when he cut his hair and showed his comedic chops in Thor: Ragnarok, as did Pine when he had electric chemistry with Gal Gadot in Wonder Woman and then wore a caftan on vacation.
And then there's Chris Pratt. You can't dispute that he's a funny guy, and he's handsome and charismatic in Guardians of the Galaxy. But remember when his ex-wife Anna Faris said she preferred him when he had a bit more weight on him? That dad vibe is both what makes him a star and what should render him ineligible for the Chris List. Pratt's transformation from charmingly funny, dad-bod guy into bland, muscly leading man zapped him of his unique charms that could have made him a major contender.
I'm proposing that we kick Pratt off the Chris list. In his place, let's add a Chris who can really hold his own physically, emotionally, and spiritually with Evans, Hemsworth, and Pine. The Chris for that job is Chris Messina.
Chris Messina, our wavy-haired, short king, has earned his stripes. He's just as handsome as the other four Chrises, and he has charisma and real acting chops to boot. From playing Claire's love interest in Six Feet Under, to the lovable grump Danny Castellano on The Mindy Project, to the constantly sweating detective on Sharp Objects, he can really do it all. He's a chameleon in a non-intimidatingly perfectly muscular body (sorry, Chris Evans).
Even without a big Marvel or DC movie under his belt, Messina's had plenty of chances to prove his sexiness. He even has a fondness for full-frontal nudity, which you can witness in 28 Hotel Rooms and Digging on Fire, should you want. He's a guy who's just sexually charged — I mean it's easy to be when you are naked in a darkened hotel room with Amy Adams, but longtime Messina fans know that his eroticism doesn't just live in his pants. Exhibit A: When he did a sexy and silly striptease on The Mindy Project that has long since inspired its own fan videos. Did Chris Messina secretly create Magic Mike under the moniker "Channing Tatum"? Who's to say!
Messina is also having a moment, making this the perfect time to reassess him and his legacy. In Birds of Prey, he plays a henchman to Ewan McGregor's bad guy; they share an intense erotic connection. Messina is also starring alongside Matt Bomer in season three of The Sinner, where the two play estranged best friends (who also share an erotic connection). Multiple erotic connections with other hot men in one month — yet another great reason why Messina deserves to bump Pratt from the list.
He brings pathos to everything he does, from his role as a cheating husband in a Sam Smith music video to to his part as the cable-news president on the otherwise unwatchable The Newsroom. He's too talented and too handsome to not be on the Chris List and if you don't believe me, watch the hotel room scene from Sharp Objects.