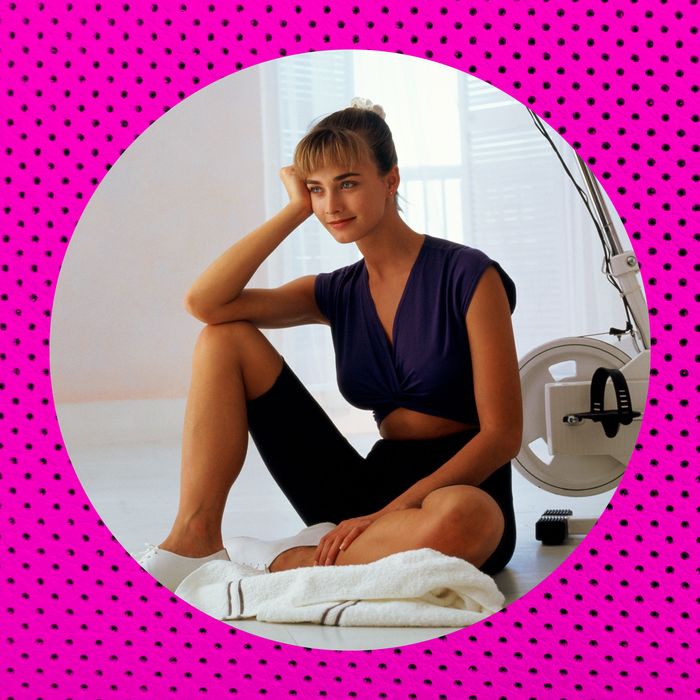 Around 2015, a more innocent time, much to our collective greater detriment, I had a vegan leather shirt. I wore it to a dance night. I did not know that even in the middle of winter, vegan leather shirts create their own private tropic weather system, and I have the heat tolerance of a toddler in a winter coat throwing a tantrum in the rainforest room at the zoo. I grew so overheated and frustrated that I waited in earth's longest bathroom line just so that I could take off my shirt in peace. I didn't even! have! to! pee! Why are shirts carefully designed for dancing in places that have zero ventilation also dry-clean-only, made of finicky fabrics, and entirely unbreathable?
But by 2020, shirts made for exercise look indistinguishable from shirts made for parties in 2004: tight, mesh, belly-forward, shiny. I'm perpetually the grubbiest person in almost every class I'm in. But my swolemates prance in shiny leopard print unisuits. In leatherette. In velvet. Saturday morning, I saw someone wearing a one-shouldered bright yellow crop top that looked like it was robbed from the Boogie Nights costume archive.
Working out and going out are the type of opposites that, in their extremes, share some similar key features. Bodily depletion, 5 a.m. if you're intense, you're probably not drinking enough water, collective catharsis — and these six shirts I own.
1. Black Cotton & Mesh Cut-Out Tank, Unknown Origin
The first athletic shirt I purchased with intention to wear to a party. It's got a high neck and luxuriously low armpits, which make me feel like I could drum in a backing band for like Sharon Van Etten or someone like that. The tags have been brutally chopped out, but I sense a strong Nordstrom Rack energy from this gal.
Exercise/Party Ratio of This Shirt: 0:8,723
What persona is this shirt bringing into the room? Escape artist with an established Irish-goodbye practice
2. White Bald Peak Thrifted Tennis Shirt, Providence Salvation Army
Softened into oblivion from overwashing, casually oversized, with a truly weird crest featuring a decapitated tree, this shirt seems like one of those new vintage tanks priced at like $125 from Re/Done and categorized as 1970s Girlfriend Fit. Tucked into interesting pants with good stomping boots, it's a summer dive bar favorite. I suppose that someone once wore this for working out, but she wasn't me.
Exercise/Party Ratio of This Shirt: 0:14
What persona is this shirt bringing into the room? Off-duty lifeguard
3. Cut-Off Jenny Holzer Tank
Purchased with the intention to wear it to the gym until I realized I loved it and wanted it to have a different audience. What am I even talking about ever? This shirt is grey with light blue writing that has one of Holzer's Inflammatory Essays on it ("DESTROY SUPERABUNDANCE …"). Very good for a weirdo casual mismatch outfit. I'm sad this shirt is probably a knockoff.
Exercise/Party Ratio of This Shirt: 1:3
What persona is this shirt bringing into the room? Sleepy art femme
4. Black Teeny-Tiny Cropped Wrap Shirt, Joylab/Target
Tied and twisted in a permanent way, this shirt is bravely cropped just under the bra line. It's the most basic going-out shirt I can imagine, except that I have to keep my hair down the whole time to cover up the brand name at the back. I sense they put these on the shirts to keep me from bringing them out on the town.
Exercise/Party Ratio of This Shirt: 0:9,823
What persona is this shirt bringing into the room? Birthday girl nihilist
5. A Navy Famous Sammy's Roumanian Steakhouse on the Lower East Side Free Shirt, Fashioned Into a Tank Top by Me
A very similar tale, but even more unlikely that this tank got rescued from the spandex drawer and promoted to nightlife because it was free. "Free" is the most common prerequisite for my exercise shirts. In any case, I make myself laugh by wearing a steakhouse shirt to both the gym and to the bar. There's a little cartoon of a seltzer bottle!
Exercise/Party Ratio of This Shirt: 1:1
What persona is this shirt bringing into the room? Clueless but sweet androgyne
6. Luxe Leatherette Cropped Tank in Black Shiny Olive Foil, Beyond Yoga
A birthday gift (!) from my mom (!!), this is the most aggressive going-out top that I have. It's so slinky it looks like a reptile slithered through a sludgy gold oil spill. An aerobic instructor said I looked like a snake! It does seem sort of evil. The vulvic insignia is a little too low for my hair to cover it, but this shirt is such an outrageous firecracker, I don't care.
Exercise/Party Ratio of This Shirt: 2:1
What persona is this shirt bringing into the room? Cosmically degenerate opportunist
While I'd love to think that I'm daring and inventive, I know that I'm neither. I know that actually someone is catering to my taste, like feeding candy (tight black shirts) to a baby (me). But come on. These low layers of deconstructed mesh? It's on an ideal shirt list I didn't know I was making. That brand, Koral, makes a lot of these ambiguous shirts. I used this mesh-with-shiny-trim one as an example, when I asked Ardith Singh, the vice-president of design for the endlessly trendy fitness boutique Bandier, about whether they'll admit they know what they're doing. "Yes," she says, they know. The people who work at Bandier are on the forefront of taking their workout clothes into the formal world. She says they're big proponents of the bras-as-tops movement and they "love the strappy sports bra/blazer/high-waisted vintage denim moment." People buy the bodysuits in particular with intentions to wear them to parties, or in her words: "perfect for barre or the bar." I didn't say it, but she did!