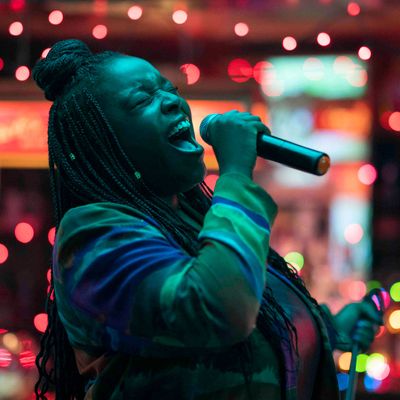 Photo: Allyson Riggs/Hulu
No disrespect to Shrill's Annie (Aidy Bryant), who has been a constant inspiration, but I think it's time we shift focus and talk about her best friend Fran (Lolly Adefope).
In season one, Fran seemed to have singledom figured out. She was playing the field and was confident in the way she looked and felt about herself. But in season two, which premiered on January 25, she went through a brutal breakup. This heartbreak, although Fran would never call it that, led her on a journey of figuring out who she was without another person. Taking herself out on a date was the kickoff event. "Since I've been not dating, I have been using myself for sex. … So I thought I should at least buy myself dinner," she told Annie.
For most of my life, I've also been single. So single that it's my default status, and easy to fall into a routine of avoiding dating completely. I am a fat Korean woman who, in spite of being as stylish as Annie and with the makeup skills and flirtatious nature of Fran, has trouble getting men to pay attention to me. I get on and off the apps, swiping right on men increasingly outside of my "type" and trying to start conversations that'll lead to dates, but nothing sticks. I shoot my shot in person too — on the subway, in the middle of concert crowds, with bartenders who pour me the best 50/50 martinis — but I end up alone at the end of the night. As I headed into 2020, I decided to make sure I really knew myself and who I wanted to be alone before adding anyone else into the equation. When I watched Fran's epic solo date night — which started with dolling herself up and ended with a killer karaoke performance — I took notes on how to take myself on a proper date. And one fine Sunday afternoon, I did it, celebrating myself without the distractions of trying to get someone else's attention.
I didn't have a full game plan when I started, but I knew it had to start with the look. Fran wore a casually chic outfit: jeans with a gorgeous earth-toned blazer, burnt sienna-shade silk shirt, dreamcatcher-esque earrings with shiny gold pieces in her braids and a pop of lip gloss. It was simple yet very Fran. I wore my brightest red jumpsuit with a matching bag and wedge booties in a head-to-toe monochrome look. Red is my power color, and after pairing it with a sunset ombre of eyeshadow with a sharp cat-eye and red lipstick, I felt like I could do anything. Well…almost anything. Fran's first stop was a chic dispensary, where she asked for something that would make her "feel like the only girl in the universe." Weed isn't legal in New York, so I had to settle for two glasses of wine at Jing Fong on the Upper West Side.
As someone who has always been overweight, I used to get worried about dining alone, anticipating others judging what I'm eating (or not eating). But on this date, I didn't give a fuck and ordered three different types of dim sum, not looking at prices because on a date I wouldn't be doing mental math to figure out the final bill. The first few minutes of my solo date were awkward, and I was tempted to pull out my phone and just scroll Instagram. But instead, I took an hour to reflect on my favorite qualities about myself — my contagious laugh, my sometimes-cheesy-but-always-consistent wit and puns, and my fierce loyalty for friends I treat like family — and did some prime people watching. After observing a table of four women in their 80s were gossiping, I overheard one say, "Didn't she have an aneurysm last year?" I came up with a little fanfic in my head about who the mysterious fifth friend was, à la the fifth member of the Golden Girls who didn't get screen time. After lunch, I went tipsy shopping at TJMaxx and Sephora and bought myself a new purse, Valentine's Day-themed dog tea towels, and a new Huda Beauty eyeshadow palette.
Toward the end of the episode, as Annie was on a meet-the-parents hell dinner with her deadbeat boyfriend, Fran was living her absolute best damn life. She stumbled into a dive bar with karaoke and really went for it, singing both parts of "Shallow" to a captivated audience. She had a rockstar moment with a ground-shaking, mic-stand-kicking-over performance in which she had more chemistry with herself than Gaga and Bradley did at the Oscars. Since I did the date with myself late on a Sunday afternoon, no karaoke bars were open, but I still wanted to end the day with something as joyful. I bought a bottle of white Pinot Noir and drank it in a reclining seat at a movie theater while watching Bombshell (the least date-night-appropriate movie ever); I bought an underground churro; I sang "Screaming Infidelities" in the shower when I got home.
On my next date night — because yes, this will be an ongoing, at least monthly thing — I'm taking a cue from Fran and finding the nearest karaoke stage to find my inner Gaga by doing both parts of Sheryl Crow and Kid Rock's "Picture," throwing some axes, going to one of those rooms where you can destroy property, or at least finding myself a skee-ball machine at an arcade. Anything I can do alone, because being alone doesn't have to mean being lonely. This date with myself was the best date I've ever been on, and I can't wait to one-up myself on the second one. And it definitely wasn't too soon to sleep with myself on the first date — but I don't think I'll catch feelings, yet.