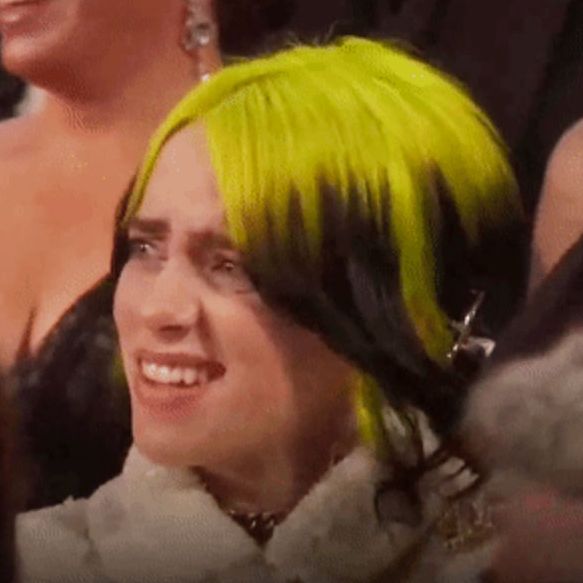 From Diane Keaton wearing all her Annie Hall outfits at once to the cast of The Irishman, the Oscars has been full of throwbacks. I mean, it's the Oscars, nothing new to report. But Billie Eilish, at just 18 and coming off an incredible sweep at the Grammys, is a noticeable exception — so how is she faring?
Judging by her reaction to Maya Rudolph and Kristin Wiig's costume-design tribute song, Billie has some questions. To be honest, so do I.
Wiig and Rudolph carried off their presentation bit with dazzling charm, but I won't pretend to understand what I was watching when these two comedic geniuses prefaced the announcement of Best Costume Design (awarded to Jacqueline Durran for Little Women) by belting a compilation of songs that are fun to perform at karaoke: Sisqo's "Thong Song," Nancy Sinatra's "These Boots Are Made for Walkin," Madonna's "Vogue," and so on.
It's when they started riffing of Chris de Burgh's "Lady in Red," that the camera panned to Eilish, looking utterly confused, almost disbelieving what she was watching.
It is as if she is saying, "This one is a musical. This one is not a musical … or is it?" The clip has quickly gone viral, with onlookers speculating as to whether she's being rude or just doesn't know any of the songs. Her reaction to Eminem's jarring throwback performance of "Lose Yourself," which is only one year older than she is, was similarly bemused. Either she's scoffing at the olds … or just at the length of this never-ending awards ceremony.