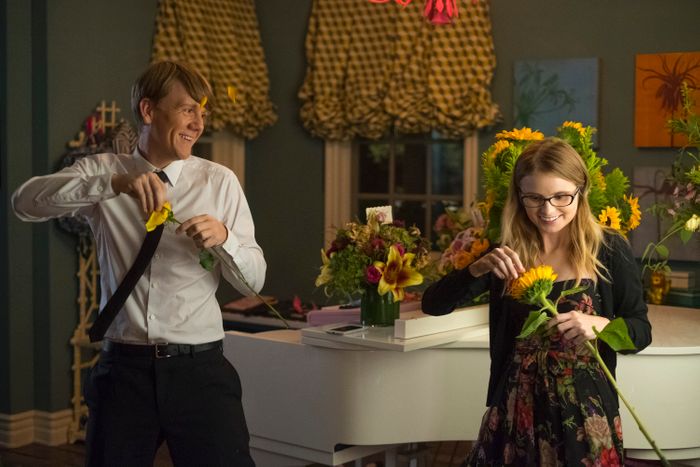 Photo: Tony Rivetti/Freeform
Last summer, on a friend's recommendation I started streaming Please Like Me, an Australian show created by and starring Josh Thomas, a comedian and writer. It's a great show, about coming out and family and mental illness, and you should definitely watch that one too — but it's not the show I want to talk about right now. The show I want to recommend today is Thomas's long-awaited new show, Everything's Gonna Be Okay, which premiered on Freeform in January.
The slightly wacky premise of the show is that, through a death in the family, Nicholas (played by Thomas, 32 in real life) becomes the guardian of his two younger half-siblings, Genevieve (Maeve Press) and Matilda (Kayla Cromer). Nicholas is Australian, and his half-siblings are not, but the whole thing is explained rather cleverly through a first-date interrogation, and very quickly you'll just be happy these three characters are together full-time. The young actors who play the sisters are skilled, charming, and actually the age they play (rare for teens on TV, who are usually played by 26-year-olds). When Genevieve, 14, gets her period for the first time, Matilda outs her in front of her friends — whom Genevieve told she got her period at 12. The shame is plausible and immediate.
Something Everything's Gonna Be Okay does very well is to portray both the individual and the universal, particularly in the challenges that confront its characters. Genevieve, at 14, experiences very common conflicts with friends who, at times, tease and disavow her, but she also does so while grieving her father. Matilda, 17, rambles in front of her much more popular crush, darkly joking that her dead dad's biggest regret was vaccinating her (she's on the autism spectrum). Nicholas, meanwhile, has to learn how to parent his sisters at the same time he's starting a new relationship with a guy his family doesn't totally trust or like. Throughout, the characters are frank about their discomfort, their biggest and smallest concerns. And because even Thomas's minor characters feel well-rounded and fully human, it's easy to care about all of them.
This show is also just very funny. (When Genevieve's cooler friend Tellulah asks her why she's never looked at her own butthole, she says, "It's just never been a good time.") The people talk like people, which is also a harder TV show quality to find than it should be. It is breezy but not unmoving. It's the perfect show to have on while you are doing something boringly human and obligatory, like doing your taxes online, the deadline for which is coming up sooner than you might want to acknowledge.