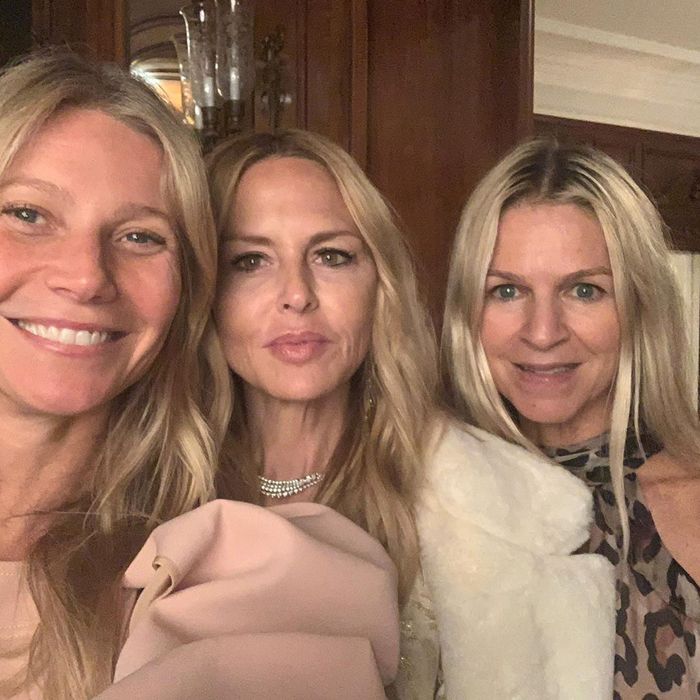 Photo: Courtesy of @gwynethpaltrow/Instagram
Gwyneth Paltrow hosted a makeup-free dinner party at her L.A. home this week. In an Instagram post, she billed the event as "a beautiful gathering in celebration of beauty just the way we come." According to a friend of a Cut staffer who was invited, guests — a selection of beautiful actresses from Paltrow's entourage that included Demi Moore and Kate Hudson — were given Goop supplements to take the week prior and encouraged not to wear makeup for the event, where a BFA photographer was present.
And yet, in an Instagram posted by GP following the night, it was clear that not all of the guests followed her explicit instructions. In a carousel of images from the evening, several appeared to defy house rules and wear eyeliner and mascara:
Designer Rachel Zoe faced the bulk of the heat in Paltrow's comment section, forcing Zoe to take to her own Instagram story to explain that she'd had some eye makeup on from earlier in the day. (How dare she.) In a separate post about the evening, she thanked GP "for encouraging confidence in being our most natural selves at every age."
In any case, everyone — makeup-free and otherwise — looked radiant, with the Daily Mail helpfully noting that Kate Hudson, in fact, "looks YOUNGER" without cosmetics. In addition to not wearing makeup, guests reportedly dined on "long-cooked kale" and salmon and drank Ketel One cocktails. GP also interviewed Alexandra Grant (Keanu Reeves's girlfriend) about "being creative, the importance of mentorship and collaboration, building positive identities for a more equal world, and of course LOVE!" according to a post on her Instagram.