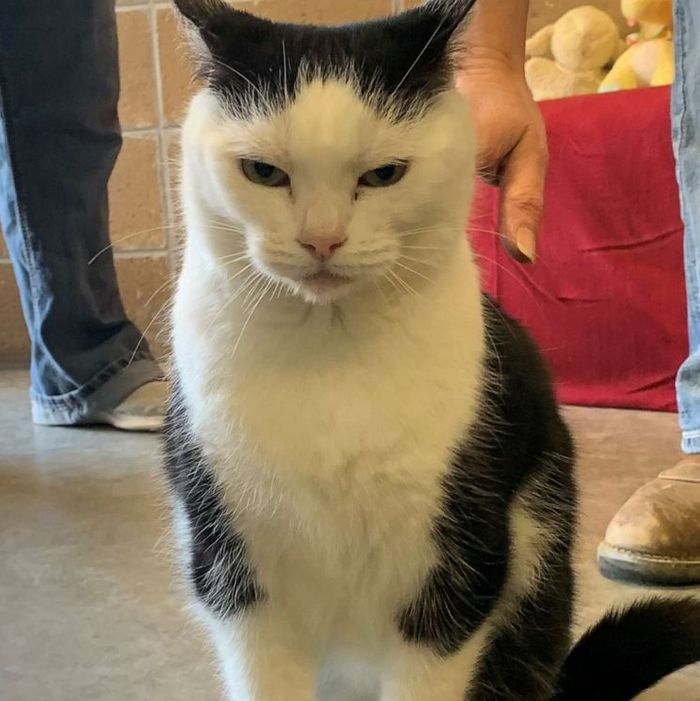 The "jerk" cat formerly known as Perdita.
Photo: Mitchell County Animal Rescue/ Facebook
It is possible, I think, to be both lovable and a jerk. My own cat is a known jerk and I adore him, but even he appears to have nothing on the storied Perdita, pictured above. Who is she? A black-and-white gremlin whose custodians advertised her as the "world's worst cat" while trying to adopt her out in January. An interesting strategy, to be sure, but also an effective one. Despite including a litany of insults in her profile, the Mitchell County Animal Rescue in North Carolina managed to find our little hell beast a home: Perdita has been adopted. Her name is Noel now.
When the shelter initially posted about the cat formerly known as Perdita, staff described her as "not for the faint of heart," fond of "lurking in dark corners" and insistent upon "being the queen of her domicile." (Well, you have to be.) They waived her adoption fee, in a bid to get an experienced cat owner to just please come remove her from the premises. "We thought she was sick, turns out she's just a jerk," the post explained. "She's single and ready to be socially awkward with a socially awkward human who understands personal space."
"We thought if we highlighted [her personality] in a humorous way, the person with a personality to match hers can adopt," the shelter's executive director, Amber Lowery, told CNN. The tactic worked: A Facebook post from Saturday says that, although "Perdita has brought so much joy to the staff here at MCAR" — ????? — it was now time for her to go to her forever home in Tennessee, selected from over 175 applications.
"Perdita chose her adopters after a successful meet and greet that included minimal growling and very little slapping (on her part…her new cat parents are lovely and don't growl or slap at all)," MCAR reported. Her new humans renamed her Noel, "just in case the name Perdita is the cause of her anger."
Hm, it's possible, although science suggests that most cats don't give a heck about their names, even if they do know them. Maybe try a little perfume instead?