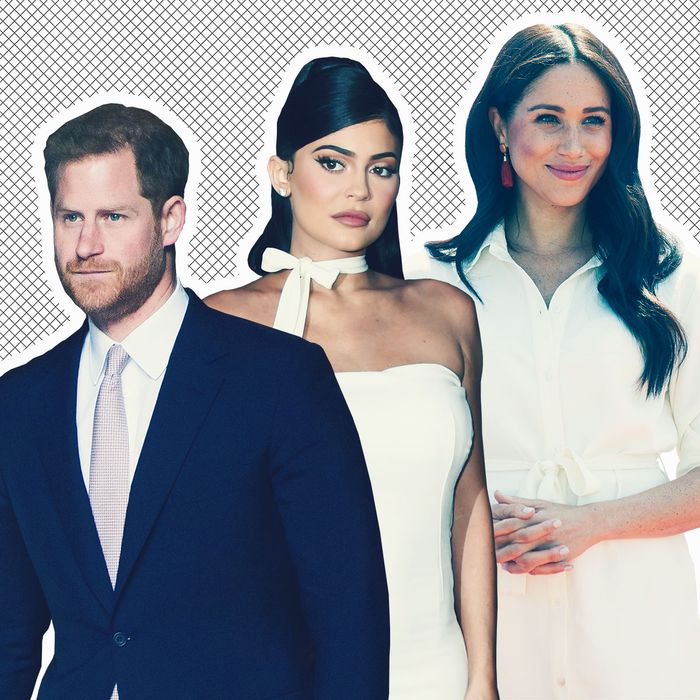 Ever since Meghan and Harry announced that they would be stepping back from their royal duties and splitting their time between the U.K. and North America, rumors have been swirling that the couple could move to L.A. And a new rumor, prompted by Caitlyn Jenner, has fueled speculation that the couple is eyeing a spot in Malibu. Last week, after Jenner said on the TV show Loose Women that she'd heard the couple "was looking for a house in Malibu" the Daily Mail cited "reports" claiming that Meghan and Harry are looking at a massive, European-style mansion which briefly housed Kylie Jenner.
This seems unlikely, mostly because the house, Petra Manor, is a cursed place. Jenner rented the mansion over the summer of 2018, and it was the site of the infamous Jordyn Woods–Tristan Thompson scandal. (If you recall, Thompson, husband of Khloé Kardashian, allegedly kissed Woods at a party at Petra Manor, leading to one of the most outrageous Kardashian scandals in history).
Apparently, Petra Manor was built in 2015 by Baywatch actor David Charvet and former Playboy model Brooke Burke on land originally purchased from Mel Gibson. Variety reports that it is still owned by the now-divorced couple. As Jenner revealed in an Instagram story tour of the property in 2018, the ten-bathroom, eight-bedroom home features multiple pools, a tennis court, and a wine cellar. A promo video of the mansion set to classical music can be seen here, if you're curious.
Currently, the Sussex family is staying on Vancouver Island, but an L.A. move would make sense: Meghan was born and raised there, her mom lives there, and it would ostensibly be easier for her to get back into acting if she chooses to. But considering her interest in "good vibes and energy," a move to Petra Manor, given its troubled history, seems unwise.