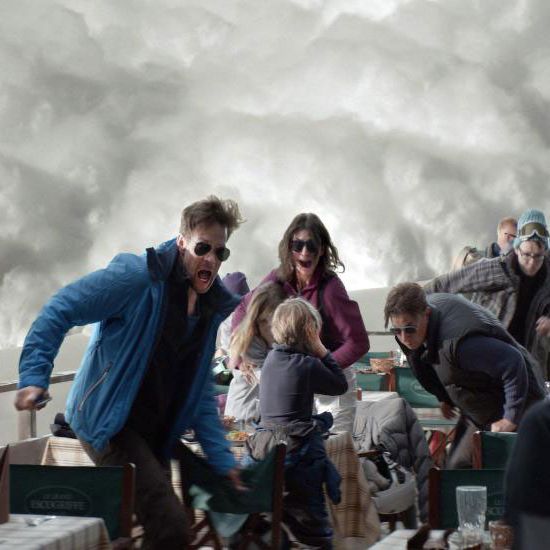 Valentine's Day marks the release of Downhill, the Julia Louis-Dreyfus and Will Ferrell–starring remake of the brilliant 2014 Swedish dark comedy Force Majeure, about a man who flees instead of staying with his family when faced with the threat of an impending avalanche. (While the avalanche turns out to be a controlled demolition, his impulsive act of cowardice sends lasting reverberations through his marriage). It also provides the perfect opportunity to revisit a morbid parlor game that I have been playing out in my head ever since I saw the original Force Majeure, which involves asking yourself, to the point of neurosis: Would the people I trust ever Force Majeure … me?
"Would you Force Majeure me?" I asked my boyfriend back in 2014.
"No," he responded for the thousandth time. "Stop asking me that."
It's not that I don't trust him, but rather that, while we all like to think that our partners wouldn't Force Majeure us, it's impossible to know how one's fight or flight instinct will come into play in face of true danger. Unfortunately, the only real way to know is to face a threatening situation together and see how you both react. Thankfully, in the intervening years, I can think of two obvious Force Majeure situations that my boyfriend passed with flying colors: one in which a skinhead on an ATV was circling our isolated Airbnb in the desert, and he grabbed a barbecue fork and told me to lock the doors and call the police "if things go bad." (The man ended up driving away, which was a good thing, because my phone didn't have reception). And another, in which a stupid friend of ours set off a powerful firecracker inside their apartment and my boyfriend covered my eyes and screamed "look away!" while my other friend bravely took the flaming fireball in her hand and tossed it across the room. (Turns out two people willing not to Force Majeure you counteracts having one idiot friend who wants to kill you all).
As discovered while writing this piece, I am not alone in playing out this twisted romantic litmus test; the movie's pivotal scene even enjoyed a brief renaissance on Twitter last year. "My boyfriend and I talk about it," says Cut writer Hannah Gold. "A few weeks ago we were having dinner with some friends and one of them mentioned a couple who's haunted by this photograph that was taken of them. The photograph was taken as a waiter was spilling wine on his friend's girlfriend, and it clearly shows the boyfriend apologizing to the waiter before trying to help his girlfriend. My friend referred to the incident as 'Jewish Force Majeure' and I've thought about it every day since."
The Cut senior editor Jen Gann had never heard of the term, but she can definitely pinpoint the Force Majeure moment in her relationship. "Some dogs tore down the beach from a hotel in Tulum, ready to kill us, and my husband pushed me behind him and held them off with a pair of flip-flops," she says. Other colleagues hadn't been in a Force Majeure situation but were confident that their partners would do the right thing. " I know that if we're ever in a more immediate emergency my wife would save me over herself, which is a little stressful for me, honestly," says senior writer Katie Heaney.
Once you have established your loved one won't Force Majeure you, it's time to turn to perhaps the more morally fraught question: Would you ever Force Majeure them? Thus far, I haven't been truly tested in this respect. When I brought up with my boyfriend that I often take it upon myself to kill spiders (his number-one enemy), he vetoed the premise, because Force Majeures "have to be some kind of uncertain impending threat" and he is "certain of the threat of spiders."
Rachel Handler, a staff writer at Vulture who recently interviewed Louis-Dreyfus about Downhill (and this very question), wisely adds that since most Force Majeures involve tangible threats, the burden tends to fall on the partner with more natural physical prowess. "My boyfriend is six-foot-three and I am five-foot-six, which is an important distinction," she says. She showed me a string of texts between her and her partner, in which he generously encouraged her to Force Majeure him should the event arise. "I'm more nimble than you, so if you broke into a run before me, that would probably be for the best. I'd rather have you in front of me than behind when you're slowing us both down," he wrote. "Feel free to run away," he added.
For a darker twist on the game, I encourage you to check out the first story in the short-story collection What We Talk About When We Talk About Anne Frank, in which two couples at a dinner party play the so-called "Anne Frank Game" by debating who they would trust to hide them in the event of a second Holocaust. Happy early Valentine's Day!