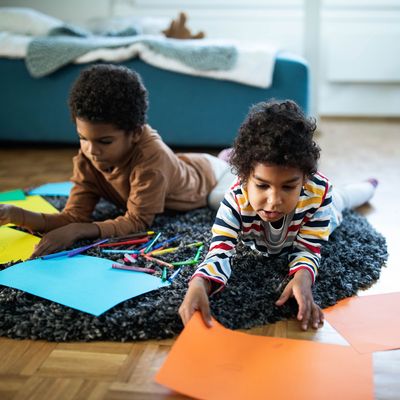 Photo: skynesher/Getty Images
As schools and day cares across the country continue to close their doors indefinitely, millions of kids are now stuck at home with their parents. And they'll be home for several weeks, if not much, much longer. Many families now have to figure out a way to do their jobs from home while also watching their kids, while others have been left to secure their own child care so they can continue to go to work. On top of that, some parents are now responsible for overseeing their kids' education as teachers push classes online. But everyone, no matter their circumstances, is contending with a sense of chaos and uncertainty. Here are 13 parents on managing child care during this vulnerable time with help from neighbors, grandparents, and screens.
Grandma comes over, even though she probably shouldn't.
41, pharmacist, midtown
I'm in health care and my husband is a cop. We are both still working, and we have three young kids. I only work three days a week, but my days are long. It makes me nervous being around so many sick people all day, but I'm doing extra hand-washing and taking precautions; I strip down when I get home so I can throw work clothes right into the wash. On my off days, we are in "school" from 9 to 3:30. I do a daily agenda with them. On the days I work, I leave out the agenda for them to do during the school hours with their grandmother, who comes over via the subway, even though she probably shouldn't. I'm trying to keep them on a school routine as best I can. Every day, I make them get dressed and brush their teeth. I even pack their lunch boxes as if they were going to school. I give them recess during the "school" day but absolutely no phones, tablets, or TV during "school hours."
We're just tag-teaming it at this point.
49, bartender, East Village
I'm a waiter and bartender, and I have two girls in first grade. My wife is a massage therapist, so we're both screwed right now. I'm still going to the restaurant to help with take-out and delivery, even though it's basically for pennies at this point. For our girls, we've set up as many "centers" around our house as we can — a reading center, an art center, a music center, a yoga center, etc. We've lined up podcasts and virtual classes. We're just tag-teaming it at this point. When I'm not home, my wife keeps the train on the track. When I'm home, I take over so she can catch her breath. Our house is trashed and we're terrified but we laugh a lot and take care of each other, and I know we'll be okay.
TV will have to be my child care.
40, jewelry designer and business owner, Red Hook
I'm a single mom. My 5-year-old daughter was addicted to the TV and screen time, and it took months to wean her off it. We are three months screen-free. And now, here we are, at a time when I desperately need to work from home and have no one to help me, and TV is the logical solution. I'm trying not to ruin all our hard work by putting her back in front of screens, but I'm sad to say I think TV will have to be my child care. It's upsetting, but it's not going to ruin her life.
Most of my money will go to a babysitter.
32, housekeeper, Bronx
I clean houses, and so far, about half my clients have canceled on me, and about half are keeping me. In the meantime, I have three young children home from school. My solution was to hire a babysitter I know to watch my kids while I work. Most of my money will go to her, but at least I can keep my jobs. I feel very weird going to work and the subway was scary this morning because we were all standing so far from each other with worried looks on our faces. But I have to keep my work going, because otherwise we're going to seriously feel it.
We had a weekend of 100 percent screen time.
42, school principal, Philadelphia
I'm the principal of a large charter school that went to remote learning in an instant, so I've been working 16 hour days since Thursday. We have a 10-year-old, so we have to be structured. After a weekend of 100 percent screen time, we came up with a schedule. We brainstormed all the activities we could do and then I let her make her own daily schedule on Google Docs. I'm trying to align my remote work duties with her schedule so we have time for activities together. I taught her my favorite card game from college, and my legs are still sore from yesterday's YouTube Zumba class. My daughter and I also both need to learn how to talk in our Zoom voices — apparently we both think that we need to scream at the screen when video chatting with friends or on work calls. There might not be room in the house for both of our video chats at the same time!
My rebellious teenagers are taking advantage of the situation.
42, nurse, Boston
I have to decide today if I'm going to quarantine myself from my family. Another nurse has an apartment that she uses as an Airbnb and said I could use it. It's been tough. I'm working constantly at the hospital and then I come home to two rebellious teenagers who are taking advantage of the situation. (I can't blame them, I would have done the same thing.) My husband is home with them during the day but he's not strict. He's a pushover. So I don't know if they're learning anything or keeping up with their school work at all. I'm too tired to ask how the day went. In theory, they have online classes and remote learning, but I think they're probably "skipping class" and getting into trouble. I saw that one of my kids had a beer under his bed — he's 15. The worst part is, I'm too drained to even address it. I'm burning the candle on both ends, which is nothing new for a nurse, but the stress and exhaustion is getting to me.
We've got grandparents to lean on.
45, journalist, Carroll Gardens
Luckily, we've got grandparents to lean on. My in-laws live in Dumbo and we're about 20 minutes away. It might sound irresponsible, but it's our only solution since we both work from home and need to keep working if we plan to pay rent. But they're pretty young and healthy, and they want to do it, and we don't have a lot of other options. So we plan to take the kids there for at least four to five hours on most workdays.
I hate having my children home.
48, painter, Sunset Park
There's no nice way to put this, but I hate having my children home. I need my house to myself to work. I'm an artist — I make my living from commissioned paintings for high-paying clients and I do it from my sun-drenched living room most of the time. I cannot work with my children at home. There is not one patient bone in my body. I've always said that I'm a wonderful mother but a terrible parent. What that means is that basic things like charts and workbooks, I want nothing to do with. Long talks and lemonade stands, I'm okay with. My husband's office is shut down, and he's technically working from home but also free to pitch in with the child care, so luckily so he'll do what he can to keep the kids out of the house, but that is counterproductive to social distancing and isolation. It's a shitshow, what can I say?
We've been relying on our neighbors.
44, retail worker, Harlem
The vintage shop my wife and I work at just closed, but up until now, we've been relying on our neighbors, who also have kids, to watch our son until we're home from work. We plan to return the favor as much as we can. A big healthy breakfast seems to help. The rules we've agreed on with our neighbors is that we're trying to do the schoolwork that his teacher sent before any screen time is allowed. Also, lots of physical education: biking, playing outside to tire 'em out. Although a lot of the physical activity consists of slamming doors, throwing things at parents and falling on the floor dramatically.
Coffee, wine, and weed.
38, sommelier, Greenpoint
I'm divorced and basically a single mom. I'm also in the food and wine industry, which means my work has essentially come to an end. Possibly forever. I have no income coming in. However, I do have help from my parents — just enough that I know my kids won't starve, and enough that I don't pay rent because they helped me buy a small one-bedroom apartment 20 years ago. That being said, I'm miserable not working and I'm miserable with my 7- and 10-year-old kids crawling all over me 24/7. So, I say: coffee, wine, and weed. From the minute I wake up until the minute I pass out, dead tired, in my bed.
I lock myself in the bathroom.
42, editor, Brooklyn Heights
I'm taking whatever help I can, so that I can literally lock myself in my bathroom to answer work emails and do calls. I'm asking neighbors who I barely know to watch my baby; I'm asking moms I barely know to help; I'm about to lock down a "mother's helper" from the neighborhood who is, um, 10 YEARS OLD. That's how desperate I am. My work is all virtual now, but it's still busy, and my baby, who normally goes to day care, is full time with me. My husband is a teacher so he's still going into work to transition to online teaching, but maybe just for a few more days. That will be quite a relief to have him home, but I'll probably just be pissed at him the whole time because I'm just stressed and annoyed in general right now.
I don't want to hear about your nanny.
49, filmmaker, Ditmas Park
What I don't want to hear about are your nanny issues — how your nanny is self-isolating and you're not sure whether to pay her or not, blah blah blah. What I also don't want to hear about is your husband, who is home from work but still getting paid half-a-million dollars plus benefits, but checks his phone nonstop at home. I am a single mom who makes a living as a filmmaker. My shoots have been canceled. My deals have been postponed indefinitely. I'm trying to be creative and innovative at home while my twin boys — who I love, and who deserve better than a stressed, resentful mother right now — make me crazy and destroy the apartment. I'm trying to boil what should be a 12-hour work day into two hours when my sister comes to help. Two hours a day to keep my career alive. So I don't want to hear that you're hiding out in the Hamptons and it's hellish.
My son needs his special-needs teachers.
30, coffee shop employee, Crown Heights
My son has special needs. His school just closed indefinitely. The café I worked in just closed, so I'm able to be home with him, but it's not good. He needs more help than I can give him. Even just to get through everyday life, he needs his special-needs teachers. And I need to hustle to find work; any paying job at this point, really. For child care, I have my mother whenever I need her, but she doesn't know how to help my son in the way he needs it. Sometimes I feel like she makes things worse because she's in denial that he has issues, and it just makes me and my son feel bad about ourselves. I'm scared and I miss the structure we had just a few days ago. That felt healthy and right; this feels wrong in every way. My son's dad doesn't live too far away, but he has other kids with another woman and he's spread very thin. My son is my responsibility and I just have to figure out what's best for him right now.
Please note the story you're reading was published more than a day ago. COVID-19 news and recommendations change fast: Read the latest here to stay up-to-date. We've lifted our paywall on all essential news and updates about the coronavirus.