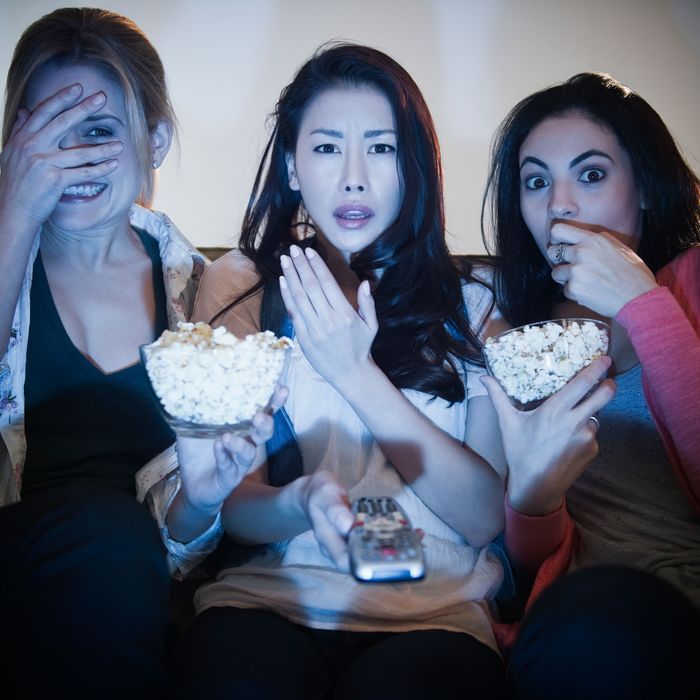 Photo: JGI/Jamie Grill/Getty Images/Tetra images RF
As the novel coronavirus continues to spread across the U.S., experts are calling for individuals to practice social distancing. This means you're probably spending more time than usual indoors, which, for many of us, means we're faced with the impossible task of choosing what to watch.
Should you soothe yourself and revisit some comfort films? Buy more streaming and binge on something new? Is now the time to start that show you missed in 2010 or get your partner, at last, to watch Lord of the Rings?
Whether you want pure escapism, joy, or something so deranged that it distracts you entirely from our current moment, here are 13 recommendations for what to watch while you're self-quarantining.
The Untamed 
I started watching The Untamed on Netflix because I saw some people I follow referring to it as "the gay wizard drama" — three of my favorite words. It lives up to the title: It's based on a "boys' love" novel; it stars two incredibly handsome idols from C-Pop groups; it's rife with homoerotic tension; they're always fighting demons and stuff. Plus the wigs are gorgeous. And it's 50 episodes long! Cannot recommend highly enough.
— Callie Beusman, news editor
All of the Godfather movies
I had a plan this winter: On a snowy weekend, I would buy cannoli, stay inside, and watch every Godfather movie. Unfortunately, New York City did not experience a single large snow storm this winter, and there were no snowy weekends, resulting in the cancelation of my plan. "Luckily," ha-ha, we're now all self-quarantining due to a rapidly spreading pandemic. Now we can all take part in my plan of watching every single one of the very long Godfather movies, right in a row. What else are we doing? On Monday, Tuesday, Wednesday, or Thursday? Nothing! (Unfortunately, you'll have to substitute something for the cannoli aspect, unless you thought to buy those in advance, which would have been good thinking. Maybe, uh, beans?)
— Kelly Conaboy, writer-at-large
Avatar: The Last Airbender
The absolute best thing you can do for yourself right now is watch Avatar: The Last Airbender, the animated series that ran on Nickelodeon from 2005 to 2008. It tells the story of Aang, a monk-child with the power to manipulate air, who was reincarnated to help restore peace to the Four Nations after the Fire Nation launched a genocidal, global takeover. The characters are charming and unusually complex for a cartoon series; there's great banter, sexual tension without sex, an evil hottie's path to redemption, and cute animal sidekicks. — Sangeeta Singh Kurtz, senior writer  
Old movies with good fashion
I've been watching old movies with incredible fashion sequences. The best movie is probably Rear Window. Come for Grace Kelly's dresses, stay for the plot. Then The Women (1939), which is so much fun — Joan Crawford at her peak. I also watched Funny Face, which has a bananas plot but killer costumes. Worth it. — Sarah Spellings, fashion writer
For Your Consideration
One socially distant evening recently, we cued up For Your Consideration, Christopher Guest's 2006 satire of the movie industry in the fullest flowering of its narcissism: campaigning for — maybe "desperately manifesting" is a better way to put it — an Academy Award. Catherine O'Hara is terrific as Marilyn Hack (of course Hack), a 30-year veteran of mid-tier schlock whose time may finally have come, with rumors of a Best Actress nod for a film-within-a-film almost (but ultimately not) called Home for Purim. Her journey from hopeless to hopeful and back is fabulous and heartbreaking and not a little absurd: Anyone who's lately fallen for O'Hara as Moira Rose, Schitt's Creek's self-regarding diva in exile and decline, will find the seeds of her here. (Eugene Levy, who created Schitt's Creek with his son, Dan, also co-wrote FYR with Guest.) The usual Guest repertory players are all great (Parker Posey, Fred Willard, John Michael Higgins, Jane Lynch, Jennifer Coolidge), but the before-they-were-big cameos are fun too. Keep an eye out for Rachael Harris, Sandra Oh, Casey Wilson, and John Krasinski. All that for three bucks on Amazon! — Matthew Schneier, features writer
Ken Burns's Vietnam
What better time to embark on the journey that is Ken Burns's 18-hour documentary series Vietnam than now, when many of us are confined to our tiny apartments for the foreseeable future? Perhaps it's not the best option for those seeking escape from our dark reality, but it's certainly gripping!
— Amanda Arnold, writer
One Tree Hill
I've always toyed with the idea of starting One Tree Hill. I didn't grow up watching it like some of my peers did, but I know it's a — if not the — quintessential coming-of-age-in-a-small-town TV show. I also know there are 20 episodes per season, so it would be a massive commitment that I wasn't sure I had time for. Now that I have literally no plans for the foreseeable future, I have nothing but time, and I am ecstatic to fill it with shots of Chad Michael Murray's face. — Alexia LaFata, SEO editor
Icarus
A few weeks ago, my friend recommended we watch Icarus, which had been described to me as "a documentary about doping in cycling." This didn't sound especially intriguing to me at first, as I was already somewhat familiar with the Lance Armstrong doping scandal and also, from what I could tell, the film didn't delve at all into Armstrong's relationship with Sheryl Crow. While it's true, unfortunately, that the film doesn't mention Sheryl Crow once, to call it "a documentary about doping in cycling" really doesn't do it justice. What starts as one man's personal journey to see if he can cheat his way through an amateur bike race turns into a tale of geopolitical intrigue that involves the World Anti-Doping Agency, the Sochi Olympics, the New York Times, and a possible state-sanctioned assassination. I spent my entire first viewing looking exactly like that person in Edvard Munch's The Scream. It's a perfect quarantine movie because after you watch it, you need some quiet time to focus on your breathing and try to ground yourself back in reality, and also you can spend hours talking about it with whomever you're quarantined with and never get bored. — Madeleine Aggeler, senior writer
Better Things
Better Things is lovely and poignant and proves we don't deserve Pamela Adlon. She's spun a coming-of-age story about being an adult that's joyful and sad and explores the complexities of how hard it is to be a human. And it must have a killer music budget because the soundtrack is perfection.
— Kerensa Cadenas, senior editor
Nathan for You
A few nights ago, I started watching random episodes of the Comedy Central sketch show Nathan for You, all four seasons of which are now streaming on Hulu. Nathan, played by the show's co-writer Nathan Fielder, is a socially challenged B-school graduate who claims to help struggling small businesses revamp their image through the power of advertising. Each episode takes you through one or a few of those journeys. Nathan tends to run into legal trouble, endanger people, and leave the businesses worse off than when he started, leading him inexorably to some pitiful revelation about the nature of human cooperation and goodness. In these disastrous times, it's no surprise I was drawn to a show that's lighthearted, has no story line, and is often funny at the expense of people trying to exploit precarious situations for money. — Hannah Gold, writer
Starring Rita Hayworth on the Criterion Channel
First, you should purchase an annual subscription to the Criterion Channel, if you don't already have one. Once you do, you can enjoy its new eight-film series, Starring Rita Hayworth. My favorite is her second musical rom-com with Fred Astaire, You Were Never Lovelier. It's charming escapism at its best, and she really gives Ginger Rogers a run for her money as a dance partner. There's The Lady From Shanghai with Orson Welles and Gilda, too, if noir is more your speed. — Rachel Bashein, managing editor
The Great British Bake Off
Now is the perfect time to revisit a show where the most dramatic thing that happens is a collapsed soufflé. Why seek out manufactured drama when there are complicated Swedish princess cakes, Baked Alaskas, or jelly rolls to be made? Pastry is dramatic enough! The amateur bakers, who all have day jobs as accountants, construction workers, or civic court workers, aren't in this to become influencers, but simply for the pure pursuit of a "good bake." Nothing bad, other than a collapsed soufflé, ever happens on GBBO, and that's what you need right now. — Kathleen Hou, Senior Writer
Something's Gotta Give
Something's Gotta Give is like a Clorox wipe for the eyes and mind. Everything is bright white, and clean, and luxurious, like Diane Keaton's white turtlenecks. The premise is that she and Jack Nicholson are stuck in the Hamptons together while he recovers from a heart attack, so it's got whiffs of self-isolation romance, too. The best part, though, is the fact that Keanu Reeves plays a hot doctor who looks at Diane Keaton talk on the phone like everyone you're stuck with right now should look at you while you Zoom chat. Keanu, I'm feeling kind of hot! — Emilia Petrarca, fashion news writer