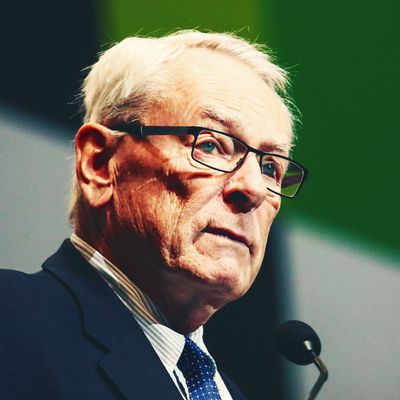 Dick Pound
Photo: Dominika Zarzycka/NurPhoto via Getty Images
It's been a while since we've heard from our favorite International Olympic Committee member, Mr. Dick Pound. Several decades ago, back in February 2020, Pound — whose full name is Richard William Duncan Pound, but who has chosen for 77 years to bravely go by Dick instead of taking the coward's way out and going by Rich or Rick or something — told the Associated Press that the fate of the 2020 Tokyo Olympics depended on the success of efforts to contain the spread of the coronavirus pandemic. Since then, the virus has continued to spread at a rapid rate, and on Monday, Dick Pound told USA Today that the Olympics would be postponed, likely until 2021.
"On the basis of the information the IOC has, postponement has been decided," Dick Pound said in a phone interview. "The parameters going forward have not been determined, but the Games are not going to start on July 24, that much I know."
He added that the IOC will announce next steps soon. "We will postpone this and begin to deal with all the ramifications of moving this, which are immense."
Like in February, Dick Pound's announcement propelled his name to the second-highest trending topic on Twitter.
Dick Pound's comments come a day after IOC president Thomas Bach wrote a letter to athletes saying that the IOC would not cancel the games altogether, but that it would look for alternate ways to stage them, including postponement. A few hours later, the Canadian Olympic and Paralympic Committees announced that they would not send athletes to the Olympic games if they were held this summer, and called on the IOC to postpone the games for one year. "While we recognize the inherent complexities around a postponement, nothing is more important than the health and safety of our athletes and the world community."
Where and when the Olympics will be held now is unclear, as are most things these days. At least, when stress and uncertainty threaten to consume us, we can find some small comfort in the knowledge that at some point, maybe, someone said, "Nice to meet you, Richard," and Dick Pound said, "Call me Dick. Dick Pound."