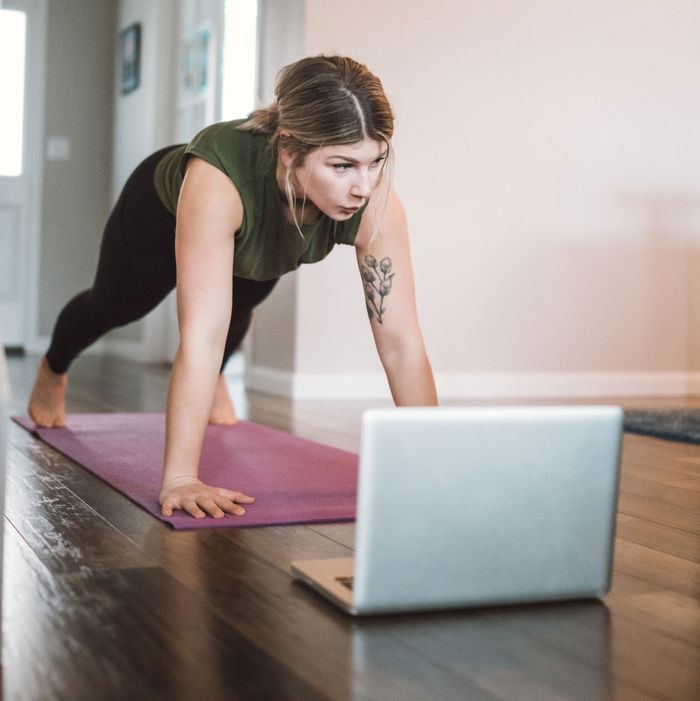 Photo: RyanJLane/Getty Images
As gyms (and other businesses) continue to close in an effort to reduce the spread and fatality rate of COVID-19, and many of us are increasingly staying inside our homes, many are wondering if, and how, we can remain somewhat physically active in close quarters. (A recent video from Spain, which is currently on lockdown, showed a fitness instructor giving socially-distant classes to residents of an apartment complex.) Some larger gym chains, like Planet Fitness, are moving to offer online classes, and it seems likely others will follow. Here, the Cut staff — plus a few friends — offers some of the at-home workout routines we love and will depend on while social distancing.
1. Yoga with a spiritual bent: 
"This studio, founded by Abbie Galvin, is yoga unlike any other practiced in the city — Taoist teaching applied to hatha poses. So much of class is the community, and the way Abbie adjusts people, but the digital studio is surprisingly effective at getting a big dose of her." — anonymous co-worker, New York Magazine
2. A low-stress prenatal and postnatal workout:
"People love mommastrong.com for prenatal and postnatal home workouts. There's something incredibly soothing about her. She's, like, the opposite of a Tracy Anderson — like, kind of a mess. Her workouts are all 15 minutes, and she's like, "Wow, thank you for showing up today. You did it!," and then her dogs walk onscreen onto her mat while she's doing the workout, and she's shoving them away. It's, like, "highly relatable." Terrible name though. It's $5 per month. I love her." — Katie Notopoulos, senior reporter at BuzzFeed News
3. The problematic but effective option:
"Jillian Michaels's 30 Day Shred workouts are difficult enough to make you very sweaty, but only 20-ish minutes long so you aren't jumping around your apartment for an hour. All you need is weights, if you have them, and a tolerance for Jillian Michaels. They're from 1997!" — Bridget Read, staff writer, the Cut
4. Low-maintenance, high-effort bodyweight workouts:
"I live on the second floor of a creaky apartment and do not own any workout equipment except for an over-the-door pull-up bar that my ex-boyfriend got me for Valentine's Day a few years back, so I tend to look for workout videos that are quiet and require no bells and whistles. I'm a big fan of GymRa, whose bodyweight strength classes are so hard I whimper throughout them — and yet I keep returning to them. My favorites include, and if you dare, their 15-minute-long ab workout, and if you dare, their 45-minute-long glutes workout." — Amanda Arnold, staff writer, the Cut
5. Yoga for every mood:
"Adriene, of Yoga With Adriene, is a soothing presence in my lonely apartment. She speaks calmly and clearly as she leads you through whatever yoga routine fits your mood: yoga for stress, yoga for frustration, yoga for insecurity, yoga for a morning boost. She is not so soothing, though, that she lacks personality and charm. She has both of those things, as well as a dog. I think she would be very intimidating to know personally, but luckily I only know her digitally. It is a delight to spend time with her, and taking 20 minutes, or however long, to stretch out my body makes me feel less sad and dead. Ahh. It is so nice to spend a little bit of time doing yoga, with Adriene, on my computer, alone." — Kelly Conaboy, writer-at-large, the Cut
6. Old-school but ageless aerobics:
"I've been a weight lifter for the last couple of years, and unfortunately, there's no real at-home replacement — at least in a Brooklyn one-bedroom — for a squat rack and 45-pound plates. BUT. Before I got into lifting, I was a big fan of the Kathy Smith Matrix Method DVD, which is just the right blend of fun, hard, cheerful, relaxing: lots of little jumps and punches and things like that." — Katie Heaney, senior writer, the Cut
7. The Peloton app (yes, really): 
"Gee Thanks listeners recommended Peloton's 90-day free trial over and over and over again, and now I'm convinced I have to start getting into yoga! Soon I'll probably give in and buy the bike. Just kidding, but I think it's smart that the company is drawing in new users during this weird time with a three-month membership." — Caroline Moss, host of Gee Thanks, Just Bought It!, a product-recommendation podcast
8. No-nonsense fitness plus Vanderpump Rules:
"For years, my favorite at-home workout videos have been the ones on the Fitness Blender. It's this YouTube channel run by a couple, Daniel and Kelli, who I appreciate because they're very no-nonsense. They don't tell you about their favorite hike, or remind you to believe in yourself while you're doing push-ups or whatever. They're just like, Do push-ups. They have, by my estimate, three billion videos to choose from: everything from yoga to kickboxing to high-intensity interval training. Lately, what I've been doing is pulling up a browser with these three videos — one for abs, one for arms, and one for legs — and then dragging it so it only takes up half the screen. Then I pull up another browser with whatever show I'm currently watching (right now: the sad current season of Vanderpump Rules), and I watch that while doing each of the three videos on silent. It's a workout that's both lazy and efficient." — Madeleine Aggeler, senior writer, the Cut
9. Socially-distanced personal training: 
"I've been working with my personal trainer online since last week. Trying to help them stay in business and keep myself healthy, since I'm garbage at self-motivating." — Fritzie Andrade, director of video, New York 
Please note the story you're reading was published more than a day ago. COVID-19 news and recommendations change fast: Read the latest here to stay up-to-date.
We're committed to keeping our readers informed.
We've removed our paywall from essential coronavirus news stories. Become a subscriber to support our journalists. Subscribe now.