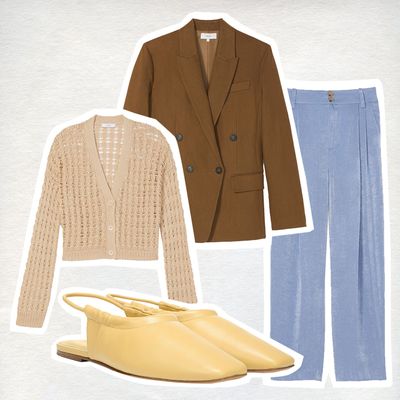 Conventional wisdom has it that fall is the best season for fashion lovers, but we'd like to advance this hot take: It's actually spring. There's something about the first few not-freezing days that make you want to step into your closet and emerge a new version of yourself — someone who's lighter, more playful, and who maybe wears a chic, slouchy suit when she doesn't have to.
There is no better tour guide to this aesthetic than Alyssa Coscarelli, the self-described "freelance fashion person" who needs no introduction to anyone who's scrolled their social media feed lately. Coscarelli has a certain genius for playing with color, proportion, and layers to create looks that are luxe but never fussy, and cool without being obnoxiously trendy.
In partnership with Vince, the brand beloved for its luxury essentials from California, we asked Coscarelli to choose the 10 trends she's most excited to explore this spring, and give us the rundown of how she plans to wear each one. From the "delicious" color that's dominating her wardrobe right now, to the very unexpected item she thinks everyone needs to own, read on for the ultimate style insider's guide to spring.
"I get excited whenever I see a dress with buttons down the front because I start thinking about its limitless potential," Coscarelli says. "It's a dress! It's a tunic, with only the top buttons buttoned, worn over jeans! It's a beach cover-up! It's a light, flowy coat! The possibilities are endless."
Forget what you've heard about who "can't" wear a trench, says Coscarelli. "I'm convinced that long coats actually make me look taller and not smaller, so all 5'1" of me will be donning ankle-grazing outerwear until the heat of summer."
"Pale yellow is a new neutral in my book. I can see myself wearing these with jeans to catch a last-minute matinée, or with a dress to a friend's inevitable bridal and/or baby shower."
"I love a good blazer, and I have my eye on this slightly oversized, satin one for spring. I don't even wear anything under my blazers most of the time, so it's truly a throw-on-and-go situation."
Better yet, Coscarelli says, make a suit of it. "In my eyes, a suit is the easiest possible outfit; it does all the work for you. But I would also wear these pieces separately to get maximum mileage out of both."
"I get kind of salty when I see an open-knit sweater like this one because it's perfect for that 'not-too-hot, not-too-cold' weather — which in New York, seems to last a week at most. But, I won't let that stop me from wearing this pretty much constantly during that very small window."
"Leather shorts might not be a wardrobe staple in the eyes of most, but if you ask me, everyone should have a pair. This specific length is transitional dressing personified into one perfectly spring-appropriate bottom, that strikes a happy medium between shorts and pants. These look especially on-point with flat sandals or flip-flops."
"If I had to pick one color for my entire wardrobe, it would be this rich, delicious, menswear-y, mid century brown. It photographs stunningly and makes me feel straight out of a high-fashion editorial with minimal effort."
"I'm building a collection of white, ribbed tank tops. I even started the hashtag #loveagoodwhitetop because in spring and summer, nothing beats a white top with well, anything and everything — but I especially like this paired with chunky gold jewelry and a Bermuda short."
"As I get older my spring hemlines are getting longer, and I don't mind it. I'm moving away from miniskirts and short-shorts and into midi- or maxi-length everything. And it doesn't even feel like a bad thing; actually, it feels quite elegant. I imagine myself throwing this on with the white tank above and a light jacket for a date night in L.A. with my long-distance boo."
All images courtesy of Vince.
This advertising content was produced in collaboration between Vox Creative and our sponsor, without involvement from Vox Media editorial staff.