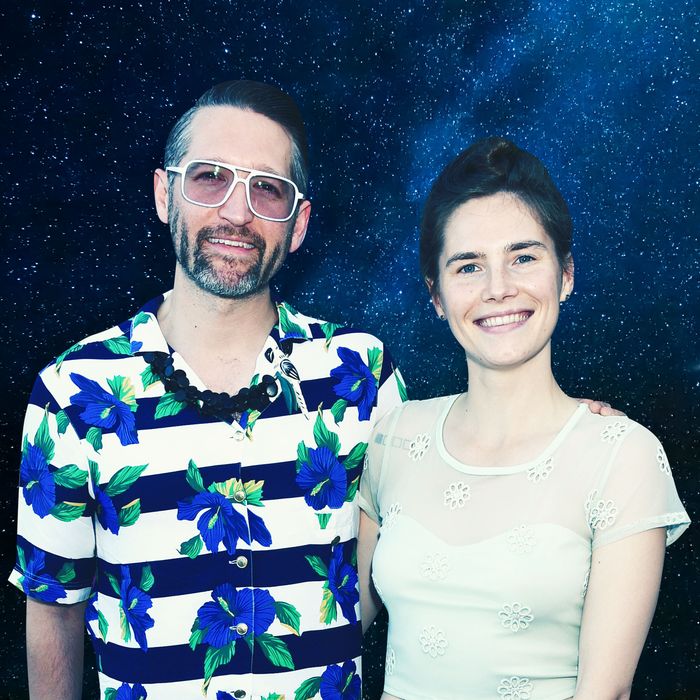 Amanda Knox — the Seattle native who was famously convicted and later acquitted for the 2007 murder of her study-abroad roommate in Italy — had a wedding ceremony with her longtime boyfriend, Christopher Robinson, this weekend.
According to the mystifying wedding website the couple created last year, the nuptials — which were dubbed "The Knox Robinson Coalescence" — seemed like they would be sci-fi themed. In addition to the website, Knox announced on her Instagram that she and Robinson would be getting married "oh so weirdly!"
And the event, which took place at Elks Log, a giant sports bar in rural Washington, was indeed very weird. TMZ shared some images from the evening, which seemed to be "space or Star Wars" themed, but was largely inscrutable, with the photos making it seem like the dress code was up for interpretation. Knox herself wore Princess Leia buns and a yellow jumpsuit, and Robinson experimented with glitter face paint. Other guests showed up as flappers, vikings, and even a lone pharaoh was present.
E! News reports that guests dined on "popcorn, potato salad and chips" and there was a "Pompeii Wood Fired Pizza oven in the back to make personal pizzas." In lieu of a traditional registry, the couple accepted donations to defray wedding costs, writing on their website that anyone who donated would receive a "a signed, limited-edition copy of The Cardio Tesseract," a book of love poems written by Knox and Robinson.
The couple met in the spring of 2015, shortly after Knox was exonerated for murder. Robinson proposed to her in an elaborate, also sci-fi-themed affair, and the two have been legally wed since 2018.