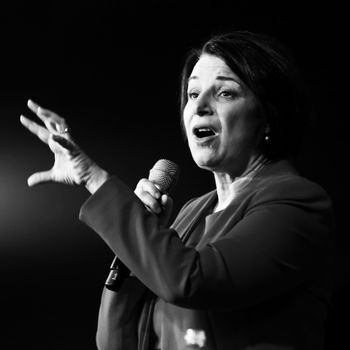 Photo: Steve Helber/AP/Shutterstock
Senator Amy Klobuchar canceled a rally for her presidential campaign in her home state of Minnesota on Sunday amid protests calling for the release of Myon Burrell, an incarcerated man who was convicted of murder as a teenager in 2002. The case received renewed scrutiny after an Associated Press investigation from January revealed several major flaws in police and prosecutors' handling of the case. At the time of Burrell's conviction, Klobuchar headed the Hennepin County Attorney's Office, which oversaw the case.
WCCO-CBS Minnesota reported that protesters chanting "Black Lives Matter," "Free Myon," and "Klobuchar has got to go" gathered outside St. Louis Park High School, where Klobuchar and some of her supporters were holding a campaign rally. The protesters made their way into the rally and onto the "stage" (a platform in a school gym), where they delayed the event for 40 minutes before it was canceled altogether.
A campaign spokesperson for Klobuchar said of the protests, "The campaign offered a meeting with the Senator if [the protesters] would leave the stage after being on stage for more than an hour. After the group initially agreed, they backed out of the agreement and we are canceling the event."
In 2002, Burrell was sentenced to life in prison after being convicted of killing an 11-year-old girl named Tyesha Edwards with a stray bullet. The AP's recent reporting revealed the flimsiness of the investigation that convicted him, including a startling lack of physical evidence (no gun, DNA, or fingerprints) and a codefendant who says he fired the bullet that killed Edwards, and that Burrell wasn't even at the scene of the crime. Burrell, who has maintained his innocence throughout his years of incarceration, also claims a convenience store surveillance tape that would have cleared his name never turned up in the course of the investigation.
In the wake of the AP's damning report, several civil-rights groups, including local chapters of Black Lives Matter and the NAACP, have called for Klobuchar to suspend her presidential campaign. Throughout her political career, Klobuchar has framed Burrell's conviction as proof that she is tough on crime. A campaign spokesperson for Klobuchar shirked responsibility for the case's outcome, telling the AP that any new information should be reviewed by a court.