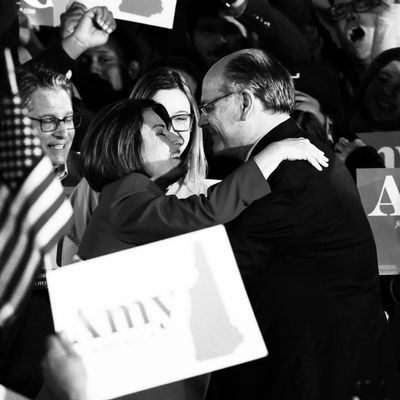 Photo: CJ Gunther/EPA-EFE/Shutterstock
Yesterday, Minnesota senator (and former Democratic presidential candidate) Amy Klobuchar announced that her husband, John Bessler, has been hospitalized with COVID-19. His diagnosis was confirmed five days after taking a test.
"He kept having a temperature and a bad, bad cough and when he started coughing up blood he got a test and a chest X-ray and they checked him into a hospital in Virginia because of a variety of things including very low oxygen levels which haven't really improved," Klobuchar wrote. "He now has pneumonia and is on oxygen but not a ventilator."
Bessler, a professor at Georgetown University Law Center in Baltimore, initially believed he had a cold but immediately quarantined himself (and stopped teaching) "just in case," said Klobuchar.
Because she and her husband were in different locations over the past 14 days, she says, she will forgo a coronavirus test, explaining that she does not qualify under any other standard and tests remain in short supply. Because of public health recommendations, Klobuchar is unable to visit her husband in the hospital, though she says she and her daughter are in touch with him via text and email.