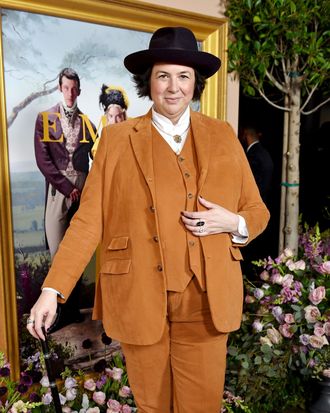 On Friday, the latest film adaptation of Jane Austen's Emma will hit streaming platforms, as its regular theatrical run was cut short when U.S. cinemas were shuttered following the spread of the coronavirus. The 2020 movie, which stars Anya Taylor-Joy, tells the story of Emma Woodhouse, a wealthy, self-deluded young woman who fancies herself a talented matchmaker (she isn't). As she imposes this hobby on those around her, drama, comedy, and a little bit of romance ensues.
While it's only the latest of several on-screen adaptations of the novel, this version of Emma is the most sumptuous I've seen. It's a cinematic feast (if the meal were just candied fruits and bonbons): the costumes are all froths of lace, and the British countryside is lush and picturesque. Watching it is indeed like "stepping inside a Ladurée macaron box," as Sarah Spellings recently put it.
I hadn't seen a period movie look so tasty since Sofia Coppola's Marie Antoinette in 2006, which with its campy Versaillian milieus — all frosted cakes and feathered muffs — thoroughly enchanted me. I was curious about how Emma's aesthetics came to be, which was how I came upon its director: a woman named Autumn de Wilde. It is with her that I am now obsessed.
When you first see Autumn de Wilde, you know she is not a regular person. There's something in her posture — proud, ramrod straight, unflinching — that suggests a baroness or mid-19th-century silk tycoon; she embodies a sort of elevated taste that people (me) aspire to have but are too dumb and inexperienced to imitate. Her look is defined by fine, comfortable things; velvet slippers, wide-brimmed felt fedoras, and custom-made suits by shops in Brooklyn I have never heard of.
As I scrolled through her Instagram in the wee hours of the morning, I immediately became enraptured and soon realized that Autumn de Wilde is also not your average Hollywood director. Emma is her first feature-length film, but she'd actually spent the past few decades as a prolific celebrity photographer, shooting a bizarre menagerie of famous people, from John C. Reilly to Robert Pattinson to a pin-up Lena Dunham. She's the unofficial photographer for Rodarte, the work of which she's documented since the brand's inception in 2005, and she is even responsible for this Childish Gambino album cover:
Perhaps it goes without saying, but I am really into this bitch's life, and I spent the next few hours reading everything I could find about it. I wasn't disappointed: According to the Los Angeles Times, de Wilde was born in 1970 in L.A. on "the Farm," a commune in the hills above the Warner Bros. studios. She got into photography in her 20s. The story goes that she was stranded outside Lollapalooza at a truck stop and got heat stroke when Beck invited her to cool down on his tour bus. She took a few photos of him, and he said she should start doing it seriously, which she did while raising her daughter, Arrow (clearly this is a family of cool names), as a single mother. She still photographs Beck today:
Going through her Instagram, you'll notice that de Wilde retains a casual adjacency to L.A. celebrity. Much of her feed consists of her wishing a "happy birthday" to these "dear friends" with photos she herself has taken of them in the past few decades:
What I'm most obsessed with, though, is the de Wilde aesthetic. As far as I can tell, she dresses almost entirely in three-piece suits in shades that I can only describe as Dutch Baroque. The colors are straight from a Vermeer still life — all marigold, emerald, and onyx. Mostly she's in solids, but some items are embroidered, rococo, in gold thread:
Behold this description of a casual de Wilde look from The New Yorker: 
"De Wilde, who is six feet two, wore a plum-colored Borsalino fedora ("I was re-upping my hats, and Bill Nighy helped me"), a high-collared pink blouse, a dark A-line jacket, a mango Prada Galleria bag, navy trousers, pink socks, and black oxford shoes."
Where do I begin with these clothes? She's obviously a masterful, elegant dresser, one who subscribes to the uniform doctrine. I too am a uniform person, but this mostly involves jeans and a Uniqlo T-shirt. De Wilde's uniform, meanwhile, is decadent and lavish; she describes it, simply, as "a mix of Paddington Bear and Oscar Wilde."
De Wilde is 49 now and uses a cane for arthritis, but of course it's not just any cane; it's modeled after one once owned by the French painter Henri de Toulouse-Lautrec, and it unscrews at the top, where a vial of Japanese whiskey and shot glasses are hidden. She got it, the L.A. Times notes, at a Victorian umbrella shop in London after requesting its "weirdest cane."
It will be some time before I'm confident enough to dress in only three-piece suits and slip alcoholic accoutrements into my accessories, but I do love having something to aspire to. Or maybe I should simply heed Emma's advice and just go for it: "Why not seize the pleasure at once? — How often is happiness destroyed by preparation, foolish preparation!" De Wilde, I think, would approve.