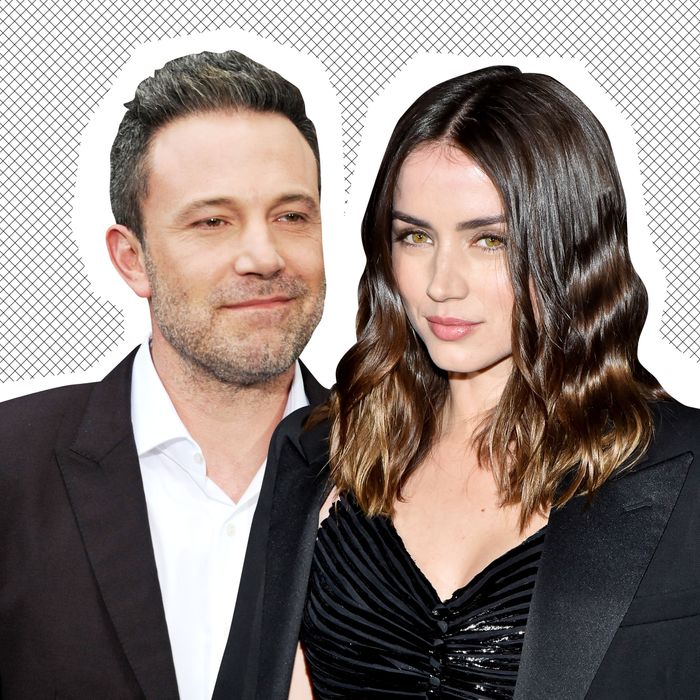 Ben Affleck and Ana De Armas.
Photo: Getty Images
Well, Ana De Armas and Ben Affleck sure appear to be dating: The actress recently posted a series of photos of herself that Affleck took (as evidenced by his plea for a "photo credit pls 😂" in the comments). But if I were Affleck, I don't know if I'd be so quick to beg for attribution. The art direction of these photos is, uh, not the best.
Armas, the 31-year-old rising star of Knives Out, is exceptionally beautiful and photogenic. She's probably one of those people who actually look amazing when they cry. But the photos that Affleck captured of her, frolicking on the beach during their recent Costa Rica trip don't fully translate that beauty — mainly, because with the exception of the first stunning portrait, they're all totally out of focus.
Perhaps it was Affleck's intention to focus on, well, nothing. Who am I, a writer who can barely operate a basic DSLR camera, to judge his art direction? But more than likely, I'm assuming that Armas bit her tongue while reviewing the hundreds of photos that her new-ish boyfriend took of her, and figured she'd post a series that some might perceive as artsy.
This leaves me wondering what the outtakes of this photo sesh looked like; I'm envisioning photos in which Armas is disconcertingly beheaded by Affleck's careless framing, or ones in which she appears phantom-like. If Affleck is hoping to preserve his budding relationship with his cooler, younger girlfriend, he better prioritize improving his Instagram Boyfriend skills. If not, he may never get the chance to treat her to a Dunkies iced coffee.