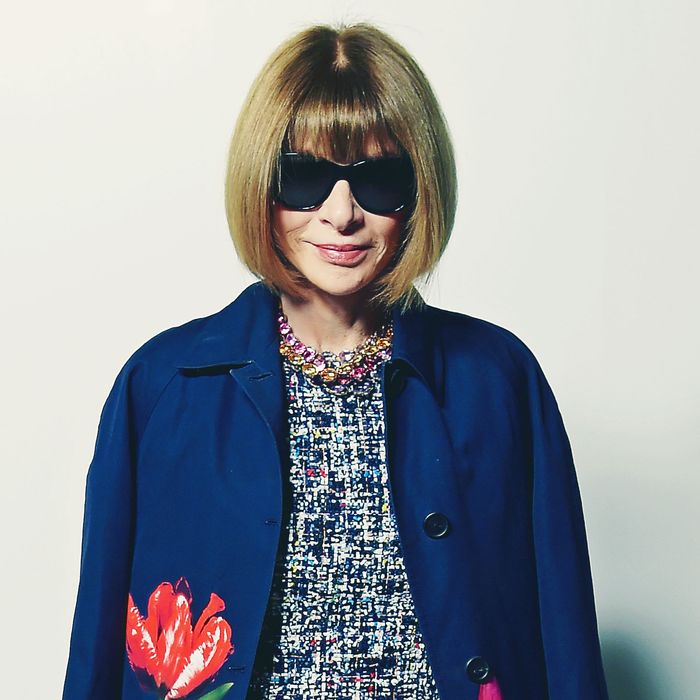 Photo: David M. Benett/Dave Benett/Getty Images for Burberry
Please note the story you're reading was published more than a day ago. COVID-19 news and recommendations change fast: Read the latest here to stay up-to-date. We've lifted our paywall on all essential news and updates about the coronavirus.
On Friday afternoon, Anna Wintour gave the world a glimpse of something unprecedented and previously unimagined: her shockingly casual work-from-home outfit.
In the photo, shared on Vogue's website and Instagram account, Wintour addresses the coronavirus pandemic while sitting in what seems to be her sunny Hamptons home on her fancy equivalent of a La-Z-Boy chair. She's propped up by a large ruffled pillow and appears to have her feet up. In typical Wintour fashion, she's wearing her signature black sunglasses inside, and her bob is neatly styled. But (gasp!) she's dressed relatively casually, wearing a knit sweater and scarf. She's even sort of smiling.
Wintour writes about adjusting to a new reality during the pandemic. Like those who are able, she's been working remotely and urges readers to stay home, asking them to pledge to do so by commenting with a rose emoji (which also happens to be a symbol of allegiance for the Democratic Socialists of America, very likely unintentional on her part).
With the Met Gala now postponed, Wintour probably has a little more time on her hands. Maybe she's been taking this time to learn TikTok dances, order Negronis to go, or do some push-ups. I'd pay good money for a screenshot of her Zoom meetings right now. (Does she wear sunglasses??)
For now, this image will tide us over. But we just have one request: Anna Wintour, please stop touching your face!