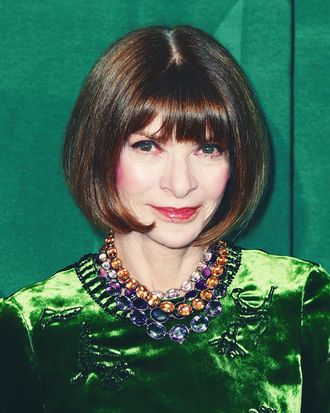 Anna Wintour.
Photo: Jacopo Raule/Getty Images
On Monday, in an editor's letter for Vogue magazine, Anna Wintour not only announced that this year's Met Gala will be postponed due to the spread of coronavirus, but also that she would be endorsing Joe Biden for the 2020 presidential election.
Wintour began her editor's letter by saying how "appalled" she's been at President Trump's response to the coronavirus pandemic so far. "These weeks have been a reminder — as if we needed a reminder — that America must choose a new president," she writes. "And it is my belief that we should choose Vice President Joe Biden."
Wintour then goes on to say that it was after Biden's Super Tuesday victories that she decided to "rally" around him as a candidate. Here's her reasoning as to why: "He is unmistakably a man of character and has so many qualities that we are in desperately short supply of in Washington right now: decency, honor, compassion, trustworthiness, and best of all experience," she writes.
Wintour also goes on to applaud his "wise" choice of a woman as his vice-president, adding in conclusion: "I am confident she will be qualified and equipped with the experience that Biden knows—as well as anyone—is required for the job."
It does not come as a surprise that Wintour has chosen Biden as her endorsement. In 2016, when she endorsed Hilary Clinton, she reportedly referred to Senator Bernie Sanders as a "hermit" and called him "as old and as snow-capped as Mont Blanc." (It is worth noting that he is only one year older than Biden, who was not in the race at the time.) But if decency, honor, compassion, trustworthiness, and experience are what she's looking for, it's unclear what distinguished one snow-capped man from another in her mind this time around.