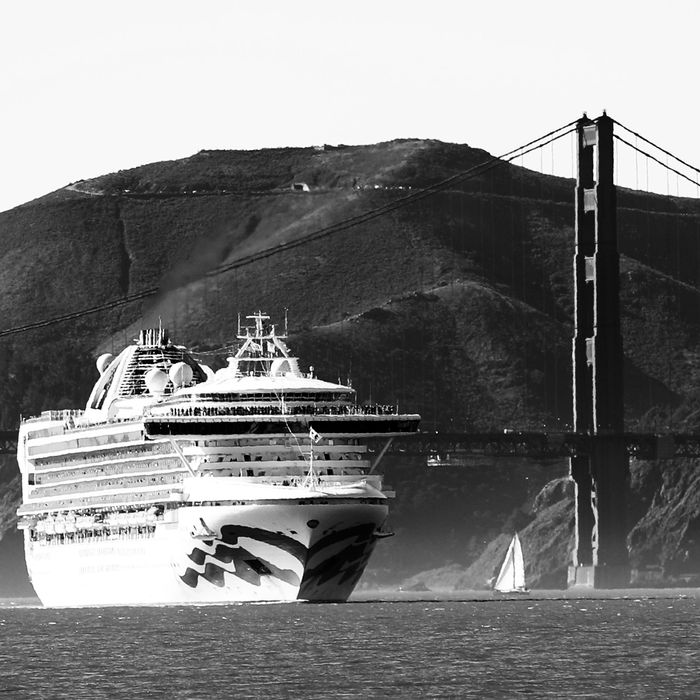 Photo: Scott Strazzante/AP
Please note the story you're reading was published more than a day ago. COVID-19 news and recommendations change fast: Read the latest here to stay up-to-date. We've lifted our paywall on all essential news and updates about the coronavirus.
If you needed a reason to stay on dry land for the foreseeable future, I have three.
A third cruise ship, the Grand Princess, has reportedly been stalled over fears of the novel coronavirus infecting those on board. At least one former passenger has died, according to health officials. The passenger who died reportedly had underlying health conditions and disembarked from the vessel in San Francisco; he spent a week at home before being hospitalized. KQED reports that another former passenger, a resident of California, has been diagnosed with the virus and is being hospitalized in Sonoma County.
The New York Times reported on Thursday that the vessel is being held off the coast of San Francisco after embarking upon a two-week trip to Hawaii that stopped in Mexico along the way. The ship left San Francisco on February 21 and had originally been scheduled to complete its journey on March 7. Last month, two other cruise ships were quarantined off the coasts of Hong Kong and Japan amid fears of infection.
Health workers are planning to test some of the cruise's current passengers for the virus. California governor Gavin Newsom said at a news conference on Wednesday, "We are going to be flying testing kits to the cruise ship, and we are going to be sending those quickly back to the state. We'll be able to test very quickly within just a few hours."
Newsome also said that 11 passengers and ten crew members (the ship was reportedly carrying 2,500 passengers and typically has a staff of around 1,150) had already displayed symptoms of the virus. Princess Cruises said in a statement that the crew singled out fewer than 100 as candidates for testing. Around half the people who were on the cruise are residents of California, Newsom said.
California health officials are already reportedly monitoring 9,400 cases of people who potentially came into contact with coronavirus through air travel. In conclusion, staying on land still seems good.