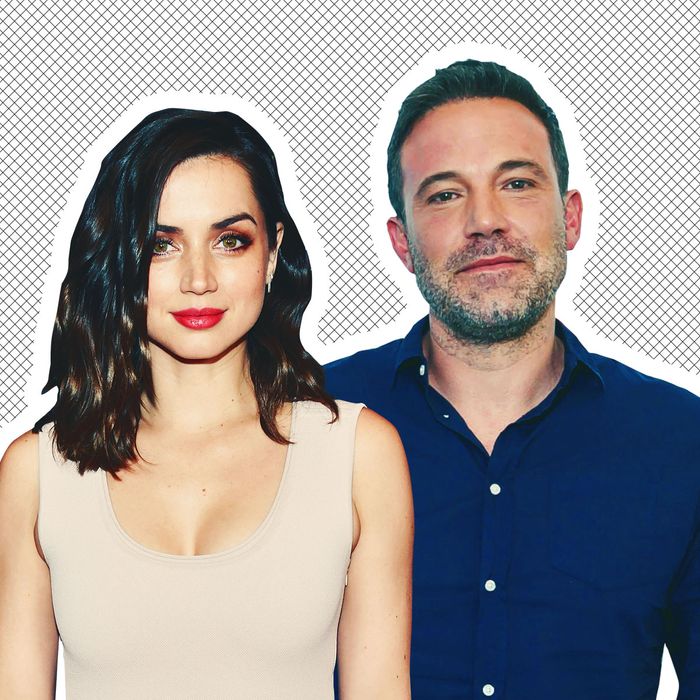 Ana de Armas and Ben Affleck: co-stars or more than that?
Photo: Getty Images
Last week, entertainment publications jumped on the breaking news story that actor-director Ben Affleck, 47, and Knives Out star Ana de Armas, 31, had been spotted enjoying each other's company in her native Cuba. The implied message: They might be dating. At the time, we wrote the speculation off as unconvincing; the actors, who recently finished filming a movie together, simply went shopping alongside each other (innocuous) and got hungry for dinner (again, normal). But with each passing day, it appears that perhaps we've been naïve fools.
On Sunday, People reported that Affleck and de Armas were seen making out at the Havana airport before boarding a private jet together, according to a source who further declared that the pair is "definitely" together. Another onlooker in Cuba told "Page Six" a similar story: "I saw Ana grab Ben's arm as they walked out together, they looked super-happy … I totally think they're dating." Now, there's more. The two were recently photographed looking very intimate in Costa Rica, where they went on what looks suspiciously like a romantic walk on the beach.
And apparently, we haven't even seen the half of it. "They have been kissing, cuddling up together and putting their arms around each other a lot," a source told E! News. "They look at each other adoringly and like taking pictures of each other."
Our personal misgivings aside — mainly, is de Armas, who's relatively newly famous, prepared to handle Affleck's baggage? — the possibility that a spark may exist between the two isn't inconceivable. They did just finish up filming the psychological thriller Deep Water, in which they play husband and wife and which reportedly contains "several sex scenes." Also, just a few weeks back, Affleck told Good Morning America that he wasn't on any dating websites, explaining, "I would love to have a relationship that was deeply meaningful and one to which I could be deeply committed." While many people do form the type of relationship that Affleck desires through dating apps, it sure sounds like he was hinting that he has a preference for more organic, in-person connections. You know a place where celebrities often hit it off spontaneously? Film sets.
Still, perhaps this is just a fun vacation fling! We'll wait until we know it's real: When we see them step out together with his-and-hers Dunkies iced coffees.
This post has been updated.