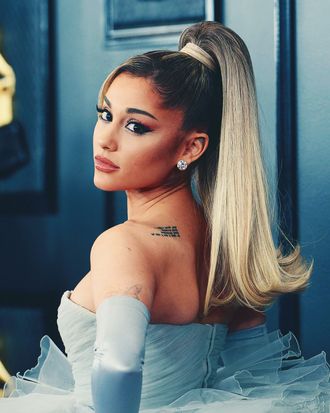 Ariana Grande
Photo: Broadimage/Shutterstock
Pursuing regular guys as romantic partners is all the rage for female celebs today. The latest to dip her toe into the trend: Ariana Grande.
According to "Page Six," the 26-year-old singer is dating a cute real-estate agent named Dalton Gomez, previously identified by TMZ as a "rando" she made out with at a Los Angeles bar last month. Though Grande hasn't explicitly confirmed that Gomez is her BF, the man has been making some brief yet obscured appearances on Grande's Instagram Stories, indicating that they're serious enough to be self-quarantining together.
So what do we know about this new man? Well, besides not being a celeb, he reportedly represents multimillion-dollar estates and mansions, and sometimes hangs out with Miley Cyrus — so, you know, he's celeb adjacent. And, though his Instagram is private, TMZ reports that Grande and "several of her friends" are following him.
So, about that video she recently uploaded of her covering Whitney Houston's very romantic song '"I Believe in You and Me," which she posted alongside the caption, "u know i love u boy." Did she have a particular boy in mind?