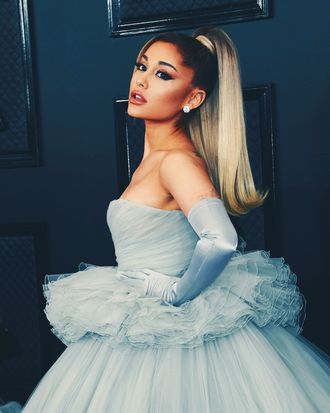 Photo: Valerie Macon/AFP via Getty Images
Things are … different now. Celebrities are posting recipes for human stew (a bath), filming tutorials on how to wash your hands, and openly admitting that they're watching Cats.
Another little glitch in the Matrix: It now seems that Ariana Grande is no longer wearing her iconic talisman, the high ponytail, while she's self-quarantining with a regular guy who is not a celebrity.
Last night, the singer posted a ponytail-free selfie showcasing her natural hair, which is a head full of dark brown curls that look like they're thriving.
Copious heart-eye emoji ensued from Jessie J, Zara Larsson, Zoey Deutch, and Beyoncé protégés Chloe and Halle Bailey. "Beautiful," Lil Nas X commented, while Grande's tattoo artist Mira Mariah exclaimed, "The curls!!!!!!!!!," hinting that it's been a while since she's seen The Curls. It's been a while since we've seen them too.
This isn't the first time Grande has revealed the natural hair that lives underneath The Ponytail, but every time she does, it's like a fun little treat. Though probably sentient with opinions of its own, The Ponytail is a commitment, and a heavy, painful one, a feeling underlined in the infamous ponytail toss of September 2018. It's exhilarating to know that, right now, The Curls can breathe, and that Grande's scalp and brain are no longer being pulled on to support the weight of the public Pony.
It's like her head has finally taken off the bra, kicked off the jeans, and slipped into a comfortable sweat suit. Now that all your beauty appointments are unfortunately canceled, your head, nails, and face may want to consider doing the same too.