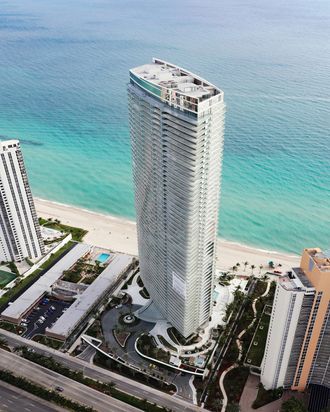 Twenty years ago, Giorgio Armani launched his interior design collection, Armani/Casa, bringing his sleek, opulent Italian design beyond closets and into the living rooms of homes around the world. Ten years after that, he opened an Armani hotel in Dubai, followed by Milan shortly after. Now, the 85-year-old designer is moving into luxury condominiums. This weekend, Armani celebrated the opening of Residences by Armani/Casa, a 60-story apartment building on the coast of Sunny Isles Beach, Florida, which is just a few miles north of Miami's South Beach.
Residences by Armani/Casa is just as luxurious-looking as you would imagine. In partnership with Dezer Development and Related Group, the elegant space includes a silk-encased lobby, plus trimmings of onyx, white-gold leaf, and bronzed mirrors. Amenities include a spa and wellness center, a theater, a cigar room, and private restaurant and wine-tasting lounge — all with interior design by Armani/Casa. The cherry on top is a $15 million penthouse on the 53rd and 54th floors. To sweeten the deal, the 6,000-square-foot duplex also comes with first-class tickets to Milan for a meet-and-greet with Giorgio Armani himself, plus a stay at the Armani Hotel Milano.
"I am definitively happy with the result, which is one of the largest projects the Armani/Casa Interior Design Studio has ever undertaken, and the first of its magnitude in the United States," said Armani.
On Friday night, Armani/Casa christened the space with a special runway presentation of the Giorgio Armani Spring/Summer 2020 collection around the building's outdoor pool, ending the night with a private performance by Pitbull. Unfortunately, residents can't expect a Pitbull performance in their backyard every night, but it's safe to say they'll be well taken care of.