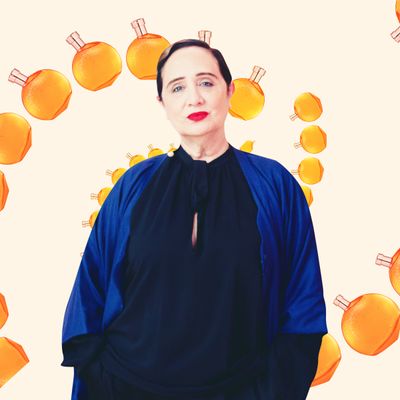 Rebecca Moses
Photo: Kelly Taub
Scientific studies confirm that, of all the senses, smell offers the best recall. In Scent Memories, the Cut asks people about the scents they associate with different times in their lives.
Next up is world-renowned artist, designer, and fashion illustrator Rebecca Moses, whose whimsical work spans the pages of Italian Vogue to the imperfectly perfect mannequins living at Ralph Pucci International. In celebration of International Fragrance Day, March 21, Moses teamed up with the Fragrance Foundation to create original artwork spotlighting seven major scent categories and notes — Floral, Fresh, Citrus, Fruity, Sweet, Woody, and Spicy. In the lead-up with Fragrance Week, which kicks off on March 19, the Cut caught up with Moses to talk beauty parlors, retro sun gel, and the art of layering personal fragrances.
My first scent memory is: Jean Nate, because it was very popular in those days, and Aqua Net hairspray. In the '60s, your mom would go to the beauty parlor — they were called beauty parlors in those days — and the hairdos were definitely tall, and you know, "done." They were "dos," and Aqua Net was that spray that they used on everything, and I'll never forget that smell.
Happiness smells like: Friday night. Friday night is my night to cook and invite people I care about, and bring them together. It's the smell of the challah, the bread, the cooking of the meats, the desserts, all of those aromas brought together. Those smells just conjure protectiveness and a safe haven. I always tell people, when you're invited to my Friday night, you're coming into my inner world, and you only get the invite if I really feel that you're a good soul.
Love smells like: A newborn baby, and the smell of the skin of the person you're holding.
Heartbreak or loss smell likes: Nothing. I think my nose goes off during heartbreak. It's funny because my nose really guides me, but when you're heartbroken, you have a shock to your system, and there's no smell I can connote to it.
Success smells like: A big bouquet of flowers!
The worst smell is: Airplane smell. You know that smell you smell when you get off the airplane? I always feel so dirty, all I want to do is go directly to a shower and take all my clothes off and send them to the cleaners. I just find that smell so bad; it makes me ill. And really raunchy body odor. I mean, there are people who don't like fragrance, hard to believe, but cleanliness to me is mandatory.
Vacation smells like: Capri, one of my favorite, treasured places in the world. It smells like basil, lemons, tomatoes, and pasta. Like bougainvillea, and jasmine, the sea, and Aperol spritz. They don't make it like this anymore, but it also smells like the old Bain de Soleil Gelée they used to make when I was a young girl. It was this brown gel that you rub on your body, and it had the best smell to it. But even Coppertone can smell like a holiday, you know what I mean? It's really funny when we think about the things we loved when we were younger; most of them were probably totally toxic and bad for us, but they're embedded in our nose forever.
Sunday morning smells like: Coffee. Definitely coffee, definitely pancakes; all the good kitchen smells. I'm a coffee addict, so having that long, lingering coffee smell is important.
Monday morning smells: Optimistic, like a citrus smell, which has a freshness to it, kind of like a new beginning. I'm an optimist and Monday morning's got positive energies in it for me; it's like another day to conquer.
My home smells like: Amber and patchouli from candles and my own scents. And food. A lot of food. But I'm very funny about food. For example, I don't like to cook fish in the house because I don't like the smell of fish cooking, so I generally cook foods that … smell good [laughs]. I know that sounds premeditated, because it is! My boyfriend sometimes likes to have fried fish, so he'll bring it home because he knows I won't cook it in the house, but I know he's going to heat it up eventually and I'll have to double dose on all my fragrances that week.
I smell like: Oh God, I mix so many different scents on me. The combination I use usually involves Elixir des Merveilles from Hermès, I use Patchouli and Ambre from Reminiscence, and I love this musk from Kayali, I find it really clean, and it mixes really well. I like a touch of berry, or a touch of vanilla, sometimes, but I'm more into the woodier scents. I may put a hint of citrus into my blend in the warmer weather, or a little touch of basil in the summer, but for the most part, I stick with those.
It's been a journey. My first real perfume discovery was Shalimar and another scent from Guerlain called Parure; those were scents that I discovered young. My Patchouli and my Ambre that I use now, I discovered young, on my first trips to Paris at the jewelry store Reminiscence. It was kind of like a cult then, especially in the '70s, and I rediscovered those scents about ten years ago and returned to them. But you're always exploring; my nose is always looking at different things, but I'll never do just one scent.
If you buy something through our links, New York may earn an affiliate commission.