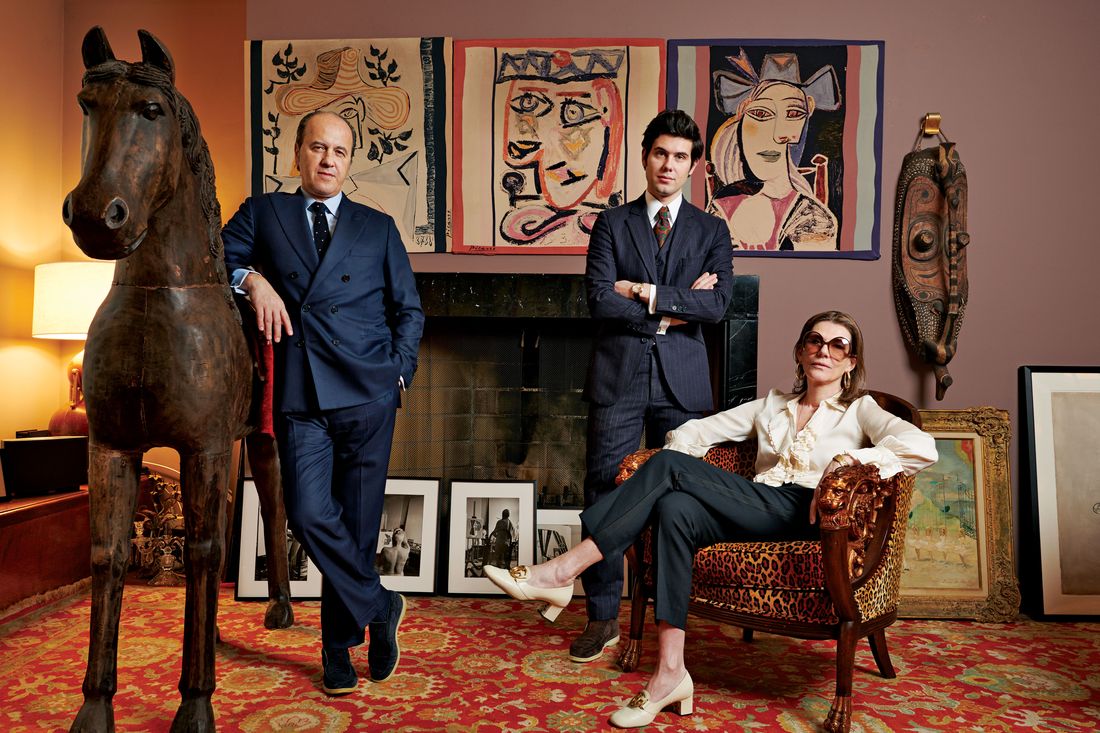 Prosper, Alex, and Martine Assouline in their New York apartment.
Photo: Jason Schmidt
Up the stairs, behind the balustrade, a modern cabinet de curiosités hangs above Fifth Avenue. It is a library guarded by a pair of statuary sheep and scattered here and there with fair-trade woven masks from Africa and vintage Louis Vuitton trunks. On its rich shelves are books bound in leather or linen or boxed in wood that attest to the great glories of world culture: the art of Picasso, the furniture of Chandigarh, the design of Coco Chanel, the cola of Coca-Cola.
Here, on the mezzanine of the Plaza Hotel (though you would find similar outposts in the Four Seasons, the Mark, the D&D Building for the architecture-and-interiors trade, or the Pacific Design Center in Los Angeles), is the world according to Assouline, where everything is beautiful, expensive, and chic. The Assoulines — Prosper and Martine, the married founders, and Alexandre and Sébastien, their sons — are librarians of luxury, and their publishing house, which turned 25 last year, is both a rhapsodist of, and a mouthpiece for, the international fashion industry. Assouline's books, more than 1,700 of them, published at a rate of 60 to 70 per year, are on subjects as various as cocktail-party chatter. Decorators and real-estate developers, two of the company's most important and quickly growing client bases, now order full rooms' worth more or less by the pound. "The content is super-important," says Prosper, sitting in his wife's office at the company headquarters on lower Park Avenue, where shelves groaning with books line the walls. "But 99 percent of the time, a book is closed in your apartment. So if it's ugly, it's a problem. It has to be beautiful."
Since arriving in the U.S. in 1999 and settling permanently a few years after, the Assoulines have often been tagged as a publisher for socialites, which is true — Kelly Killoren Bensimon was an Assouline author before she was a Real Housewife of New York — but that description falls short. Assouline strives to produce books by, for, or about any of the megacorporations that peddle luxury (Chanel, Dior, Cartier) or that don't but aspire to (Coke, Mattel). And its founders look the part: Prosper, expensively tailored, his thinned-out hair slicked suavely back; Martine, lithe and lavishly accessorized, expensive with just a hint of French excess in her Louis Vuitton leopard-print sweater. Alex, the younger son at 27, in a young-fogey suit and suspenders, manages the business of the business (sales and marketing), while his parents handle the more creative aspects (acquiring, commissioning, and editing); 44-year-old Sébastien, in Paris, focuses on designing their new experiments in home décor. In conversation, Alex defers largely to his parents, whose social fluency in contiguous, interspersed French and English — Martine's raspy, Prosper's creamy — has been honed by long years on the party circuits of the world. "They're very social, very networked," says Ron Frasch, a retail-industry consultant who has been friends with the family for years. "They work very hard at it."
Assouline isn't the only publisher to work this territory. Plenty of rival houses specialize in lavish photography and illustrated books and compete with Assouline for clients and their reliable orders — august Rizzoli, intellectual Taschen, tony Phaidon — all of which are involved in one way or another with brand-fluffing publishing. But Assouline, more than any other, fashions itself as a peer of the brands it services, so much so that Prosper scoffs at comparisons to other presses. "I always say our competitor is more Ladurée," he says, referring to the purveyor of high-end macarons. "It's beautiful packaging. It's good taste. You want to go back every day. And it's a beautiful gift."
The family is not a "hawker" of catalogues, he says, though the distinction can feel a bit squishy. A little more than a third of Assouline's sales come from its Ultimate line, a series of masterpiece anthologies that includes The Impossible Collection of Art and The Impossible Collection of Design but also Louis Vuitton Windows and The Impossible Collection of Bentley. One built-in benefit of doing admiring books on or with companies is that those companies agree, officially or implicitly, to buy a portion of the print run to keep for themselves or to gift to shareholders, clients, and journalists. Others are sold in stores. "Sometimes our clients don't have the budget to buy a Trinity ring or a $2 million Cartier diamond," says Michel Aliaga, Cartier's associate director of heritage information. "But they have the taste to buy a book."
The family looked to fashion and luxury for inspiration early on. Martine was the director of communications for the French fashion label Rochas; Prosper was running a creative agency specializing in advertising for luxury brands. "At the time, shoes were very important, and it was the beginning of Louboutin, et cetera," Prosper says. "Everybody was crazy about it. And the price of the shoes was $600; it was huge." Assouline saw that a book, properly made and marketed, could be sold the same way, in the same places, to the same clients. "C'est bizarre, but it is exactly this," Prosper says. Although early hits for Assouline were the palm-size, 99 franc — about $15 — editions from its Memoire series on major designers and houses of fashion and jewelry, Assouline's books these days are generally more like objets d'art, and limited editions may run into the five-figure range. The company recently launched an XXL Collection of oversize books that cost $12,000.  After a few years, the Assoulines shut down the creative agency and turned their attention to book publishing full time.
Their first retail space, opened in 2003, was housed on the seventh floor of Bergdorf Goodman. The family hatched the idea over dinner with Frasch, the department store's CEO in the early aughts, when Assouline was working on the design of the Bergdorf catalogue mailer. "There's other presses that do interesting books," says Frasch. "But they've really found the niche in the marketplace." Their customer was not a books customer; Prosper and Martine had turned up their noses at Borders and Barnes & Noble. "I told him our business is not in the bookstores," Prosper says. "We found our public at Bergdorf Goodman."
The Assoulines do not carry themselves like inky publishers. They are charming, courtly, Fronch, living and working surrounded by art, fine cigars, and bourgeois-bohemian eclectic. Their office conference room is an homage to Seville, their favorite vacation destination, and is decorated with art and antiques from their pilgrimages there. Their stores once sold a scented candle meant to smell like cocaine. "I learned a lot about the theater of doing business" from them, says Richard Christiansen, who previously worked for Prosper as a creative director. "The importance of walking into an office, opening the door, and gasping because it's so beautiful." (He once learned the hard way not to sneak wine out of the boss's office while burning the midnight oil; it cost a small fortune to replace the bottle.)
Prosper and Martine draw a line between what they call "editorial" books and "partner" books — those titles commissioned by brands for occasions, a particular item or collection, or simply the brand itself in honor of its eminence, such as a book on Rimowa, the German company whose grooved aluminum suitcases are the kings of the baggage carousel. Many partners become repeat customers. "We've done five books with Coca-Cola," Alex Assouline says. "Dior, 13." Richard Dickson, now the president of Mattel, approached the Assoulines in 2008, "trying to convince them," he said, "what they could do with me if we created this amazing celebration of Barbie." The Barbie book became a collector's item, not least because Mattel stood ready to snap up copies to proudly display in its offices worldwide. "We talk about what is the vision for what story we're trying to tell, whether that's a Barbie story, a Hot Wheels story, or a Mattel story," Dickson said in an interview. Another book, for Mattel's 75th anniversary, is being discussed.
And yet partner and editorial books sit spine by spine in Assouline's stores and their clients' libraries. "It's interesting to see the interest in the library," Martine says. "It was not the case ten years ago. The library was something boring. 'You want a bibliothèque at home? Oh my God.' " Now the company offers curation services to interior designers.
The Assoulines insist on editorial independence, but they acknowledge that exposés are not the point and their gentility is, in part, expressed in gentleness. "I think they give the subjects a lot of freedom in terms of how to position the books," Frasch says. One of their best sellers, and a key get, is Lee Radziwill's memoir, Happy Times, which Assouline published in 2001. In her long, exciting lifetime, Radziwill was commissioned to write a memoir in the '70s and again in the '90s, but neither came to fruition. It's hard to imagine a traditional publisher accepting the agreeable trifle Radziwill produced, "a slim picture book with reminiscences on the Bouvier sisters' carefree early years," in the words of the New York Times. "Most memories are happy, right?," Larry King asked Radziwill when she appeared on his show in 2001. "Oh yes, I think so," she replied. "You can sort of block the ones that aren't, to a certain extent." The book has sold 50,000 copies to date.
The guiding principle seems to be "If you don't have anything nice to say, don't say anything at all." For a fee, Assouline will happily produce books not meant for the public marketplace at all. Prosper compares his team to a restaurant kitchen: "We have all of our three-star kitchen doing a bar mitzvah for somebody you do not know," he crows with a merry laugh. Assouline has published titles on private collections, private homes ("We just finished a book on one of the most expensive houses in the world," a 17th-century behemoth in Paris, Prosper says), private travel diaries ("like Noa Noa," Gauguin's Tahitian memoir), even entire countries, commissioned by their governments. "They can do it anywhere else," he says, "but they want to have an Assouline." I wondered aloud if all of these governments were democratically elected ones, which got a laugh, but in his office Prosper proudly displays a forthcoming title, as tall as his waist, on Al Ula, the soon-to-open "living museum" of archaeological and historical sites in Saudi Arabia, photographed by Robert Polidori and commissioned by the Saudis.
Book publishing is a difficult business, especially for more expensive, illustrated books, whose costs can be driven sky high by photo rights and permissions, and some of Assouline's rival companies have sought refuge in larger companies or patrons. (The private-equity billionaire and avid rare-book collector Leon Black owns Phaidon.) Assouline has maintained its independence, but the conglomerate LVMH — which owns Dior, Fendi, Givenchy, and Marc Jacobs — acquired a minority stake in the business in 2013. The company is profitable, though the family declined to share specifics of their revenue or volume.
The Assouline sensibility — not surprising for a company that publishes In the Spirit of Miami Beach, In the Spirit of Palm Beach, and In the Spirit of Gstaad — can travel. And in recent years, its scope has expanded from books into the world around them. Prosper sees the next generation of the business, now vested in Alex's care, as being in partnerships that bring a touch of Assouline to worthy projects, for a price. The company now keeps 13 shops and 20 "branded corners" in high-end department stores around the world as well as the flagship Maison Assouline in London and a franchise Maison in Dubai. (Gucci, which has published with Assouline, named the London Maison, in a former bank building dating to the early 1920s, one of its "Gucci Places," which "reflect the taste and values of the House.") "This is one of the most important departments," Prosper says.
The Related Companies, the real-estate developer that is among the most landowning in Manhattan, contracted with the Assoulines to put a library lounge in the Caledonia (a hybrid rental-condo building in Chelsea, which opened in 2008), as one of several on-site amenities that include an Equinox gym and high-end dog care. The Assoulines designed the space and picked the books. "All of the advertising was 'Equinox for your body, Assouline for your mind,' " Prosper says. Two years ago, they came back to "refresh" the lounge; another refresh is planned, and Related has brought them into more buildings, including 15 Hudson Yards and the forthcoming Lantern House near the High Line.
The Caledonia refresh was one of Alex's first major projects for Assouline, after he returned to the family business following a short career in consulting. "There's a lot in every industry we can venture into, because we really create luxury lifestyle," he says. The biggest opportunity is not to blanket the world with books: Luxury and availability are natural enemies, and the print runs for high-end illustrated books like Assouline's generally don't exceed 5,000, anyway. Assouline is a "niche, still a niche," Martine says. "We like that."
*This article appears in the March 2, 2020, issue of New York Magazine. Subscribe Now!