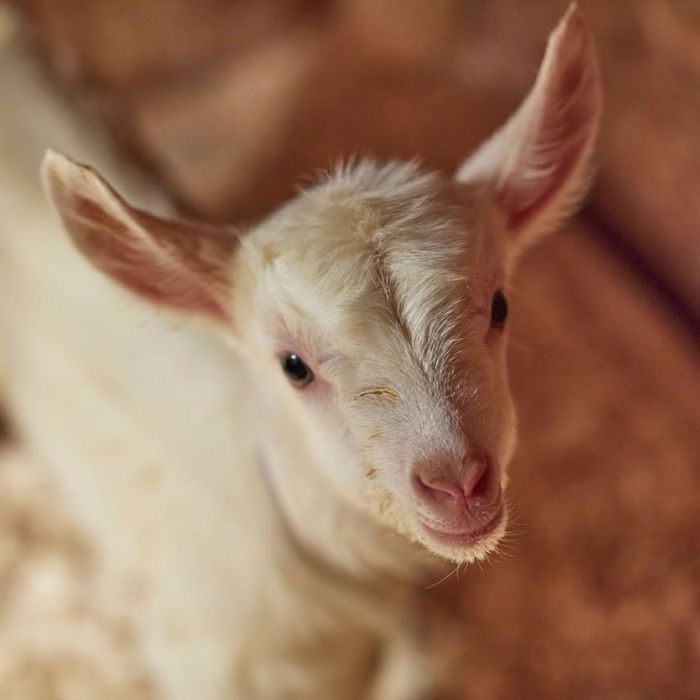 This baby goat can't wait to meet you.
Photo: @beekman1802/Instagram
While humans are slowly morphing into their couches, dogs are starring in Zoom calls, penguins are leisurely walking through aquariums, and goats are partaking in the quintessential spring activity of making tinier, even cuter goats.
It's officially Baby Goat Season over at Beekman 1802, the upstate purveyors of goat-milk beauty products and that Schitt's Creek beauty line. There are 100-plus goats on the brand's picturesque farm, and better yet, a free livestream keeping an eye on the baby ones. The "best milkers" are adding new members to the herd almost daily, so the brand blessed us all by focusing its goat cam on the nursery, which is outfitted with a slatted crib wall, a bouncy ball, a decal that reads "BAABY," and currently, like, 11 baby goats doing baby-goat things.
Regardless of what that groundhog in Pennsylvania decided or what day it actually is (seriously, what day is it?), you can still hack springtime in your current confines. Crack a window, light a candle that smells like fresh produce, and watch as one cute baby goat sniffs another fluffy, cute baby goat's butt. Inhale, exhale, repeat as needed. You, like the season of spring in general and these goats for the time being, are baby.
The brand notes that "camera interruptions may happen from time to time," due to the farm's rural location, so it's probably best to keep the Baby Goat Cam permanently open in a tab, that way you can check in on Kevin (what I named Baby Goat No. 7) between Zoom calls.