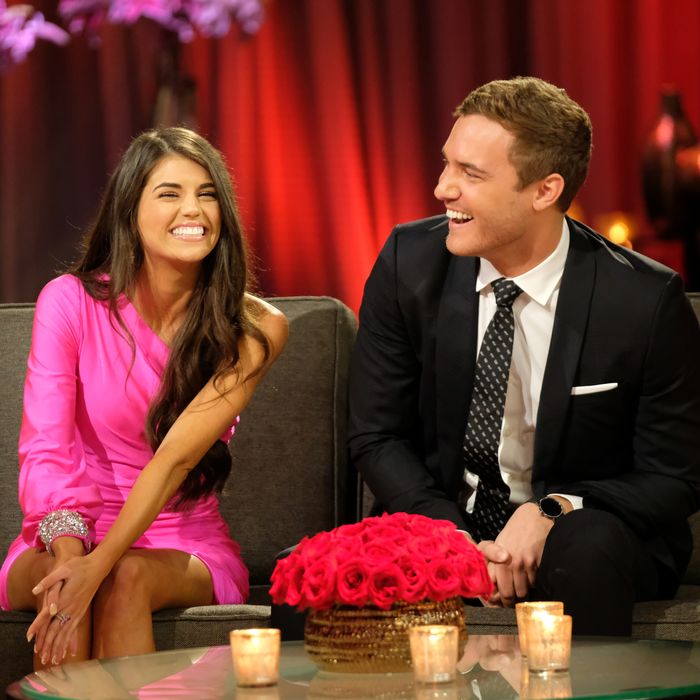 Madison and Peter.
Photo: John Fleenor/ABC
Today, we come together to mourn the loss of Peter Weber and Madison Prewett's relationship. The union was born on Tuesday, March 10, 2020, in an L.A. studio surrounded by friends and angry family members, and it ended on Thursday, March 12, 2020, on Instagram. Our thoughts and prayers go out to them. Our thoughts and prayers also go out to us, the viewers, because what the hell, man?
As you may recall, the two-part Bachelor season 24 finale took place earlier this week. In part one, Madison dumped Peter — the bumbling, drama-obsessed star of this season — because she's saving herself for marriage, and she was still upset that he had slept with other women during Fantasy Suite week. In part two, Peter, still heartbroken, proposed to the one remaining woman, Hannah Ann, but that, predictably, did not work out. Later in the episode, we learned that he broke off their engagement because he was still in love with Madison who, it turned out, was also still in love with him. The finale ended with Peter and Madison saying that they were giving their relationship a try and taking things "one day at a time," and over the vocal protests of Peter's mom, Barb, who loathes Madison because she made Peter's family wait three hours before meeting them in Australia.
Afterward, the happy couple took it "one day at a time" exactly twice. On Thursday evening, Madison and Peter both posted pictures on Instagram announcing their separation.
"Madi and I have mutually decided to not pursue our relationship any further. Believe me this was not easy for either of us to be ok with, but after a lot of honest conversations, we have agreed that this is what makes most sense for the two of us," wrote Peter.
"As Peter and I have decided to go our separate ways, I am confident that we will both move in the direction of our purpose and never forget that God has a plan in all things," said Madison.
The short-lived romance has raised eyebrows among other members of the Bachelor Nation. On their podcast Bachelor Happy Hour on Wednesday, former Bachelorettes Becca Kufrin and Rachel Lindsay criticized Madison for having already hired a manager and public relations specialist to help navigate her newfound fame into future career opportunities. "It makes me question her motives her entire time," said Lindsay.
At least Peter's mom seems to be in good spirits.