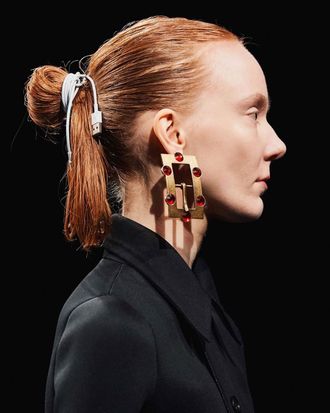 Balenciaga Fall 2020: Never lose your iPhone charger ever again.
Photo: EnfntsTerribles/Instagram
Balenciaga's wet and spooky fall 2020 show was an ominous look into our not-so-distant future: one in which everything is flooded, our shoulders are very pointy, and somehow, some way, we've forsaken scrunchies. The apocalypse is no place for plush ponytail holders and wrist companions. Instead, we will turn to wiry Apple iPhone charger cables, our daily providers of life force, to support our hair during trying times.
Wearing your iPhone charger in your hair instead of leaving it somewhere you didn't mean to will drastically cut down on some our generation's biggest time sucks: looking for your phone charger, repeatedly asking yourself "Where is my phone charger?" when you already know the answer (not here), and asking other people "Can I borrow your phone charger?" (I mean, I guess). Simply keeping it bound to your head throughout the day will leave you more time and energy to focus on whatever else you do during an apocalypse.
Style-wise, the white cord pops against any hair color, and the metallic USB and lightning embellishments on either end will give your updo a sleek, modern feel. Tech-y hair ties also pair well with the other futuristic beauty trends that walked the runway: red, blood-shot eyes that prove how good you are at falling into internet black holes past your bedtime, all-black eyes that confirm your soul has indeed left the building, and long, sharp, claw nails that visually lengthen fingers permanently cradled around the iPhone you carry everywhere in its (hopefully waterproof) Balenciaga phone case.