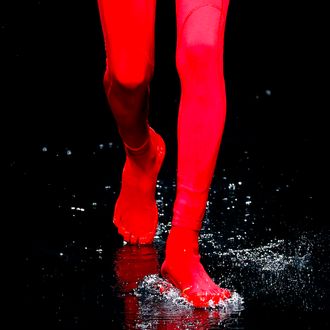 The runways at Balenciaga's F/W 2020 show in Paris.
Photo: Estrop/Getty Images
Balenciaga presented its fall/winter collection in high apocalypse style at Paris fashion week, purposefully flooding the runway and the first few rows of seats as a pointed statement on climate change.
Models splashed through the approximate inch of water piped onto the black catwalk, some wearing water socks while others braved the flood in stiletto heels. Balenciaga's creative director, Demna Gvasalia, reportedly envisioned this as a nod to rising sea levels, one already-evident consequence of global warming. Other ominous touches included looming LED screens on the ceiling, which projected images of inferno skies and great squalls of crows. A very doomy overall effect, especially as a backdrop for exaggerated supervillain shoulders:
The show was held in the Cité du Cinema film studio complex in Saint Denis, a suburb north of Paris. The clothes themselves maintained the Matrix cosplay vibe prevalent in high fashion these days, with long pleathery coats and and spooky cloaks and futuristic eyewear reminiscent of space invaders. With water also running over the first two rows of seats, attendees were relegated to the third row or further back, saving them from backsplash.
If the idea of making climate change commentary through a somewhat wasteful visual metaphor — water is not a limitless resource, after all — feels a little convoluted to you, know that Balenciaga reportedly plans to return the water it used to the city. The brand will also donate the chairs to a children's sports center, according to Footwear News. So, all told, a fairly appropriate follow-up to Gvasalia's Paris show in September, held in what the Cut's Cathy Horyn described as a "modern arena that resembled a government assembly, evoked the terrors of a world controlled by soulless bureaucrats."
This post has been updated to reflect that the show's creative direction was by Demna Gvasalia.