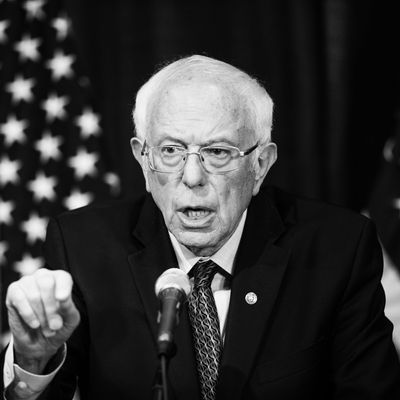 Photo: Scott Eisen/Getty Images
Everlane sells ubiquitous flattering basics. It also sells a brand concept that's into ethical fashion and "radical transparency" with respect to supply chains and costs. And it's been very successful at it: The company was valued at $250 million in 2016. Nonetheless, Everlane has reportedly taken up union busting amid the economic downturn associated with the coronavirus pandemic, and now Democratic presidential candidate Bernie Sanders is calling for the brand to amend its ways and make good on its promise of ethical labor practices.
The conflict began when the San Francisco–based apparel brand laid off nearly all of its "customer experience" workers, who had just announced in December their intention to unionize with the Communications Workers of America in the hopes of improving their workplace conditions. Vice reported that the group of part-time remote workers who "make up a key piece of the business" were being paid about $16 an hour. These hours were also reportedly being capped so that the company could deny their employees benefits, including health care. Even then the head of Everlane's People division expressed strong reservations about employees unionizing, arguing that it would somehow conflict with the company's values of "transparency and open communications."
On Sunday, Vice reported that 42 people of the 57-member customer-experience team had been fired, according to an internal message from Everlane CEO Michael Preysman. The remaining 15 workers will reportedly be made full-time employees. An additional 180 part-time retail employees were also laid off, and 68 full-time retail employees were temporarily laid off or "furloughed." The memo stated that laid-off employees will be offered two weeks' severance pay. Everlane employees told Vice the layoffs were surprising as the company had informed them recently that business remained strong.
The report came a day after the unionizing Everlane workers announced from their Twitter account that "nearly every member of our team was just laid off," and "retail workers from Everlane stores are being trained to replace us to answer your support emails." If true, this would amount to union busting — a range of tactics used to prevent workers from unionizing — manifesting, in this case, as bosses firing organized labor and replacing them with other workers. Sanders identified Everlane's actions as such in a tweet on Sunday, writing that "using this health and economic crisis to union bust is morally unacceptable." Sanders called on the clothing company to put its fired workers back on the payroll and recognize the Everlane workers' union.
Preysman responded to Sanders's tweet, saying that firing the workers "was not about the union" and that the business is currently "not profitable." He added that the company "had to eliminate all part-time associates across the brand." In a statement, a spokesperson for Everlane said:
We made a difficult business decision to layoff and furlough 290 talented members of our team. This decision was necessary because our retail revenue disappeared overnight and our online business is down 25 percent. Less than 14 percent of these layoffs came from our customer experience team and we were able to offer the remaining individuals full-time positions with health benefits. The idea that these cuts were in any way related to the organizing effort is factually not true. Our hope is that we can bring our team back once the economy recovers.
Meanwhile, Everlane's customer-support employees have started a relief fund for workers impacted by the layoffs.