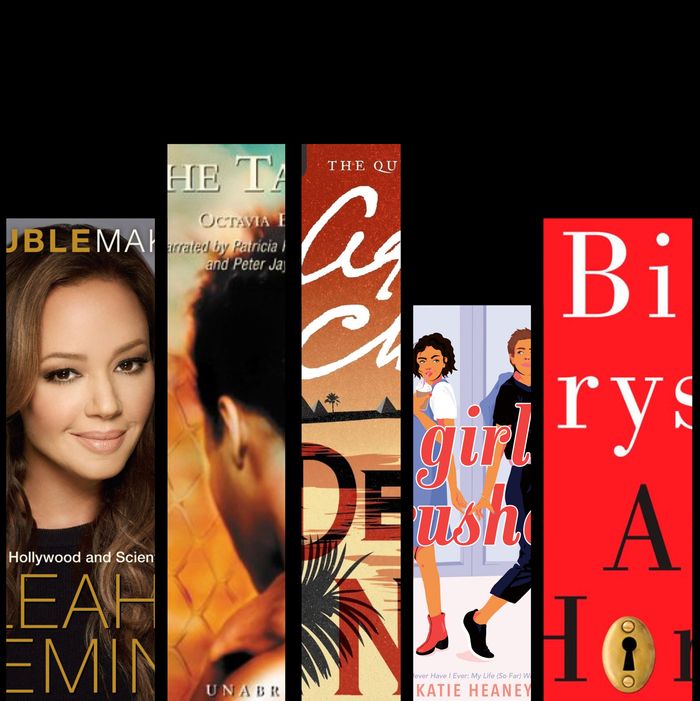 Photo: Courtesy of the Retailers
We all have a lot of time at home on our hands right now. And while getting a lot "done" during this uncertain period sounds like a great idea in theory, in reality, it's a lot more difficult to enact — I can't read a physical book for more than ten minutes without checking my phone for more news. I am certainly not writing King Lear. What I can do (besides play video games) is listen. Podcasts are one option, but I'm finding audiobooks especially comforting right now. It's nice just to hear one person talk for a while; plus, it's a relatively passive, escapist downtime activity you can do while cooking or cleaning. Here are some top audiobook picks from Cut staff and friends.  
1. Say Nothing, Patrick Radden Keefe
I just finished (and restarted) listening to Say Nothing by Patrick Radden Keefe on Audible. It's an incredibly well-reported book about the Troubles in Northern Ireland, focusing on two women on both sides of the conflict. It felt more like I was listening to Serial or Slow Burn than anything else. It's dark, and the last third, after the conflict is over and they're all dealing with the fallout (PTSD, community collapse) is really just so sad. I thought I knew a lot about the Troubles, but I really didn't until I read this. Also, I am comforted by deep Northern Irish accents, and the narrator, Matthew Blaney, has a great one. —Sarah Spellings, fashion writer
2. The Diana Chronicles, Tina Brown
Tina Brown's The Diana Chronicles is a really good escapist listen. It's about the royals, it's about stuff that happened 30 years ago, and Tina Brown has a British accent. The biography is as juicy as you would expect coming from a former editor-in-chief of Tatler (at 25), but Brown is also empathetic toward Princess Diana and critical of the media who hounded her, so it doesn't feel exploitative or cruel. Even if you've seen every Diana documentary, you'll learn more; the reporting is truly comprehensive. —Bridget Read, staff writer
Leah Remini's Troublemaker may be the best celebrity memoir, or at least the best celebrity memoir audiobook: Gonzo journalism inside Scientology (her family joined when she was 9) meets celebrity gossip (playing hide-and-seek with Tom Cruise! going to TomKat's wedding with J.Lo!) meets a honking Brooklyn accent. —Marisa Carroll, features editor
4. Parable of the Talents, Octavia Butler
I have never been a big reader of science fiction or of apocalyptic fiction, but I started Parable of the Talents just before the coronavirus pandemic started to seriously spread, and I'm finding it strangely comforting during this time. It's set in the 2030s, and it's both incredibly relevant to what's going on in the United States right now (there's a president whose tagline is "Make America Great Again"), and different enough in its summary of the 2010s and 2020s to make me feel that things are not quite as awful as they could be. The plot is gripping, and I've actually found myself contemplating the ideas of Earthseed, the book's fictional religion based around the idea that God is change. We're all dealing with a lot of abrupt change right now, and much of what Butler writes has helped me deal with those changes. —Katja Vujić, Snapchat editor 
5. His Dark Materials, the Complete BBC Radio Collection
The His Dark Materials trilogy, by Philip Pullman, is one of the most spectacular fantasy stories of all time. With a plucky young heroine, clever animal sidekicks, and a gorgeously wrought multiverse, it's a totally mesmerizing adventure story about friendship, love, and resilience against a corrupt power. What's more, its audiobook version is like watching a film in your head: Philip Pullman's own calming, grandfatherly voice narrates, and a full voice cast is employed for the remaining characters. Next to Jim Dale's Harry Potter, it's the most immersive and well-produced audiobook I've ever listened to, and is the ideal way to pass time as you await your beans. —Sangeeta Singh-Kurtz, staff writer
6. Uncanny Valley, Anna Wiener
This is the sort of book I might find a bit hard to follow on paper, by which I mostly mean that it is about "the tech world." (I felt similarly about Bad Blood.) But the narrator, Suehyla El-Attar, has maybe the most compelling, winsome speaking voice I've ever heard. She makes you feel like you're in on the joke, even if you are a tech dummy like me, who still struggles to understand what is ever going on in Silicon Valley. Plus, the writing is just really good. —Katie Heaney, senior writer
I love Neil Gaiman's reading voice and I specifically enjoyed Neverwhere. Escapist and thrilling and easy to follow! One character is named "Door" and I love the way he pronounces it ("Doohw"). —Edith Zimmerman, creator of Drawing Links
8. Know My Name, Chanel Miller
Know My Name, the memoir by Chanel Miller, the woman whom Brock Turner sexually assaulted in 2015, is the first audiobook that convinced me that the format could be superior to physical books. Listening to Miller narrate her own story is incredibly moving. Even when she becomes indignant or pained, which you can hear in her voice, she remains eloquent. The memoir is at times devastating, for certain, but more than anything, it's inspiring. —Amanda Arnold, staff writer
9. Death on the Nile, Agatha Christie 
I've also got a bunch of Agatha Christie audiobooks in my library. Dan Stevens (of Downton Abbey's Cousin Matthew fame) narrates several, and they're a lot of fun. I listened to Christie's Death on the Nile, narrated by David Suchet, a few years ago and I still think about it … all the time. Specifically one character … with one particular characteristic. Can I insert the emoji with the monocle? Or is invoking it enough? Who killed Linnet Ridgeway?? —Edith Zimmerman
10. Girl Crushed, Katie Heaney
Well, look. It's not the best time to be coming out with a book. So I don't feel too gauche about including my own audiobook here (out April 7), especially because it was read by Caitlin Kinnunen, who earned a Tony nomination for her leading role in the Broadway musical The Prom. She does an incredible job narrating, and brings so much more life to what, in my opinion, is already a very good book. The way I've been describing it is "gay Pretty in Pink meets the U.S. Women's National soccer team." —Katie Heaney
I've listened to this every night for, like, four years. It's the most comforting, fascinating book, about the history of why our homes have dining rooms and pantries and bedrooms, full of the most compelling anecdotes and stories: the history of salt, why humans sleep the hours they do and did they always (no), how the court of Versailles had to instill a rule about where you could go to the bathroom (hint: not just anywhere). And it's all told in the most droll, marvelous way by the wonderful Bill Bryson. Trigger warning: There ARE mentions of previous plagues and outbreaks, but for me it's just comforting to know that humans have been through it all before, and will again. —Chiara Atik, playwright
If you buy something through our links, New York may earn an affiliate commission.