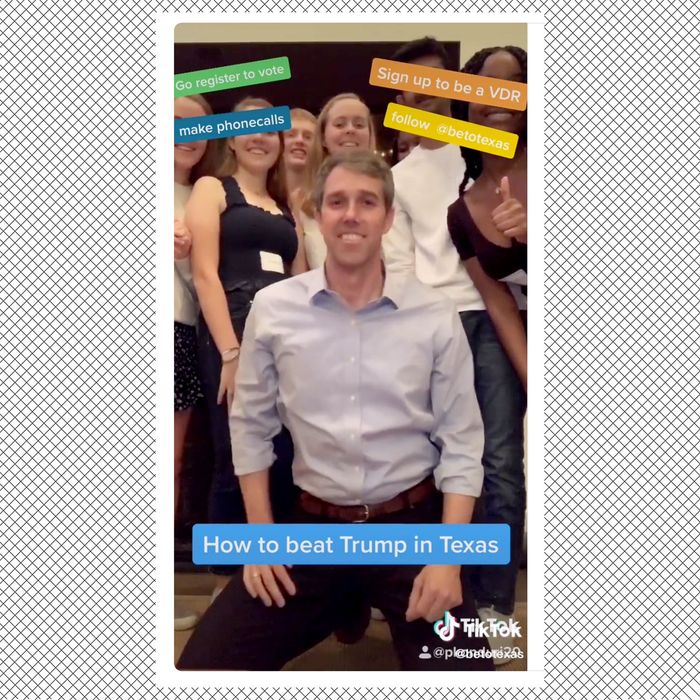 Beto O'Rourke.
Photo: betotexas/TikTok
While we were preoccupied last night watching life as we know it descend into unfathomable chaos, we missed what typically would've been a momentous occasion: Beto O'Rourke, former presidential candidate and lead singer of the rock band Fragile Gang, joined TikTok. And his grand entrance was just as uncomfortable as one might expect of a Gen-X politician desperate to reach a younger audience on an app rife with complex dances performed by the youth.
As a whole, the video was largely unremarkable; it shows Beto encouraging his followers to participate in the democratic process in order to "beat Trump in Texas," using a beloved TikTok video format that involves pointing to text as it appears onscreen. But one thing stands out: the strange body position that Beto held throughout its entirety — a deep crouch.
Now I mean no offense to the crouching position, which happens to feel great on your hip flexors if you lean back a little. But why, why did Beto decide to strike this pose in this context? There is a time and a place for that position, sir, and that time and place is when you're a bikinied model crawling in the sand for the Sports Illustrated swimsuit edition.
Someone get this man to one of the few places where he seems truly at ease: the countertop.