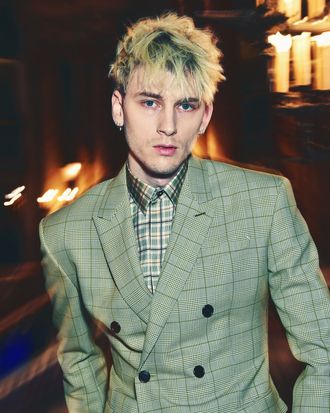 Photo: Stephane Cardinale - Corbis/Corbis via Getty Images
Let me start out by saying that Colson Baker, also known as the rapper Machine Gun Kelly (MGK), is not my type. Professor Bhaer, the scholarly, smoldering Frenchman from Little Women is. What's more, previous experience has taught me to avoid dalliances with musicians of all stripes, with white male rappers falling to the absolute bottom of that list. But in recent years MGK has moved far away from the Eminem-Macklemore-G-Eazy composite I previously (and incorrectly) thought of him as, and he has instead fashioned himself into a successful actor and style icon. And it was last night, while watching him in the coming-of-age comedy Big Time Adolescence, I finally let myself acknowledge that yes, Machine Gun Kelly is totally kind of hot.
MGK doesn't have a huge role in Big Time Adolescence, a movie about a straitlaced teen who idolizes his sister's burnout 20-something ex (Pete Davidson), an attachment that ultimately has dire consequences. As is the case in real life, MGK plays Davidson's good friend and partner in such deviant activities as smoking weed, playing video games, and doing Edward Fortyhands on weekdays.
These are not sexy pastimes for men in their late 20s, but I'd be lying if I didn't say that MGK lends a sort of refined presence to every scene he's in. Perhaps it's his height — he's a wispy six-foot-four — or his clothes. In the film, he's dressed entirely in coordinated Fila tracksuits, and I have a weakness for dick prints. Whatever the case, he looks like a hot tree I would very much like to climb.
Even outside his movies, I find the MGK look extremely and yet inexplicably attractive. He's almost entirely tattooed; his delicate, scarred face is covered in piercings; and he looks, alarmingly, like an elfin Teen Gohan. These are not things I usually like! But on MGK they are features that come together beautifully in an androgynous aesthetic that's devastatingly sexy:
I've never met MGK, but the Cut editor Kerensa Cadenas told me that when she did while working at Complex, and he was "so swaggy and very charming." Likewise, the Cut beauty director Kathleen Hou revealed that she has also considered MGK her dirtbag crush since spotting him on her flight from L.A. wearing "shiny magenta nail polish." As it turns out, MGK gives himself creative DIY manicures and always has perfect nails, a level of self-care I find delightful. He's also attentive to such details in others: In a recent interview with Elle, he described his "weakness" as "open-toe heels and a fresh pedicure."
I'm still not a big fan of his music, which is a little too yell-y and boy band for my taste, but I do appreciate his other aesthetic tastes, like his horny-fruit music videos, and the fact that he's apparently reading Neil Gaiman's Sandman while he responsibly self-isolates.
And while I'm usually not into them, MGK has even turned me on the particular point of tattoos. His body is like a catalogue of strange and wonderful things: He has "Almost Famous" scrawled across his lower abdomen, a rendering of Shel Silverstein's The Giving Tree on his ribs, and Dali's The Temptation of Saint Anthony on his back. All he's missing is my name.